Probability of returning back to online
After winter break, students returned back in person, and there was a surge in the number of absences of students and staff. The fight for schools to remain fully functional was tough, but in the end successful. Some schools merged classrooms or invited retired teachers to come back and substitute. It had even gotten to the point where some teachers conducted class remotely and the students were in class watching a big screen. 
With the shortage of teachers, there were problems for students who have trouble learning without their teacher being physically there. Students found themselves having to learn topics independently. This caused them to have difficulty fully grasping the subject. Substitute teachers can't do much to combat this issue since all they can really do is just supervise over the class. 
At the moment no schools in California have closed down but providing COVID testing has been proven to be a challenge. Despite the surge in cases, it was stressed that closing schools would be a last resort– after all the resources available have been exhausted– in an attempt to preserve in–person education. At the moment there is no specific threshold at which the State recommends an immediate closure of classrooms or school. The only way schools should consider closing temporarily is after conferring with local health officials.
In the Orange County School districts there is no longer a set criteria for closing down school campuses for increasing cases. There is a high premium on in–person teaching since many students complained the previous year about school being virtual. Most of these complaints were about how they were not learning anything. With sudden uprisings in cases it does not mean that schools are mainly responsible for the increase. It has been found that transmission is still more likely to happen to people living in the same household or participating in other non–school activities. Schools are provided with a variety of resources to keep up safety precautions like air purifiers, masks, hand sanitizers, and sanitizing wipes to clean off desks from the previous classes. 
SAUSD Chief Communicator Officer Fermin Leal said,  "Santa Ana Unified School district is currently providing a variety of resources for students, staff, and community members to help slow the spread of COVID-19 in our community. These include: weekly testing for all students and staff; daily testing clinics for Santa Ana community members (parents, residents, and other non-SAUSD individuals); weekly vaccine clinics across the district for both students and staff, and community members; and providing appropriate masks to all students and staff. SAUSD is the only district in Orange County offering free testing to all students, staff, and community members on our campuses and other district locations."
California school districts also have plans for those who are not vaccinated. For example, Alpine Union School District in San Diego will have students who are unvaccinated still resume in-person learning but they will be taught  at a location off campus. California Gov. Gavin Newsom plans to have all students and employees at public and private schools be vaccinated by July. Newsom's plan has received mixed reactions from parents and critics. Some parents believe Newsom is participating in a form of segregation. Despite the backlash, Newsom believes this could be a model for other states to follow along and do what is necessary to vaccinate everyone.
Junior Aymee Marin shared her opinion on this plan to make the coronavirus vaccination policy. 
"I think that it's great. The more people that get vaccinated the better. Even though the vaccine doesn't mean you won't get sick, it definitely helps with the symptoms to avoid any hospitalization," she said.
With sudden surges of cases coming unexpectedly every now and then, students start to wonder if school is even safe to begin with. Fear and paranoia sets in as as students start to realize that if they were to contract COVID–19 they would put their own families at risk. Those who are more vulnerable, with medical conditions like asthma or diabetes, are at risk of potentially being hospitalized. This can affect a student's productivity if they are too busy worrying if they were exposed rather than focusing on what is being taught.
Schools say that they are a safe place, but do students really feel like it is protecting them? 
Sophomore Bethany Alvarez  explained how safe she feels at school.
She said, "To be honest it's eh, I don't really have like a fear. But I would prefer online because I think it would really help with fully distancing." She also brought up the fact her peers seem paranoid and have conversations about being vaccinated and making sure they have their masks on.
Marin stated,"At first I felt really secure and I figured that if there were an outbreak they'd just shut down the schools again but now that more and more cases are being confirmed I started to lose that security. I am vaccinated though so if I were to get COVID again, it wouldn't be that bad but I can't say that for everybody. I do my best personally to always keep my mask on but I know not everyone thinks this way." 
Parents are also starting to wonder if schools are truly a safe place for their children. They worry if sending their child to school could potentially bring them a step closer to contracting the virus. 
Students worldwide had troubles being online because of wifi issues, connecting to zoom, not having access to technology, etc.; it brings back the memories when MCHS first shut down back on March 13, 2020. For many students it was no issue transitioning from in-person to virtual learning, but for others it was an obstacle they had to overcome. There is a sense of worry that returning to virtual school will come with the same issues they once faced. 
Junior, Sonia Robles stated, "I believe we should stay in-person. In my opinion it is a better learning for most students. I believe for me, I would also enjoy my school life in person rather than on a computer for another year." 
California's top health officials announced on March 1, 2022 that educators and support staff who work in TK‐12 school settings will no longer be required by the state to wear masks while indoors regardless of vaccination status. This will have taken effect after March 11, but despite this, masking will remain a strong recommendation. 
About the Contributor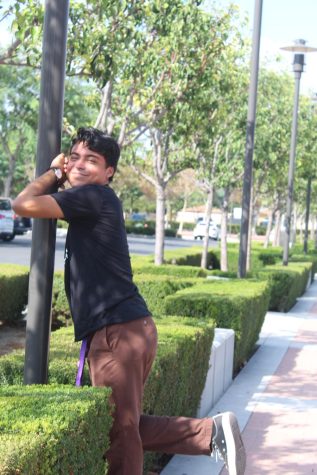 Noe De Santiago, Staff Writer



I love The Weeknd. I love Adam Sandler. I love Star Wars.