Is "Euphoria" realistic to the high school experience?
High school is a time in everyone's life that no show can seem to portray correctly. There are so many complexities in our relationships and experiences that it's hard to put them on the screen. Time and time again we find our real issues misrepresented. In 2019, HBO released the first season of their show "Euphoria," and they released the second season earlier this year. Many people criticized the show for its constant drug use and its abundance of sexual content. However, others praised it for giving lots of character depth for each character, and for portraying issues that many teenagers go through such as toxic relationships, addiction, and body image issues. These points of view have sparked a debate as to whether or not "Euphoria" accurately portrayed high school correctly.
According to several articles, "Euphoria" isn't totally spot-on, but there are several topics that it gets right such as mental health issues, substance abuse, and toxic relationships.
A website called "Girls United" published an article on the different themes of "Euphoria" and what it says about the high school experience. One example is their take on the toxic relationships that are shown in the show.
They stated that, "'Euphoria' also examines the spectrum of toxic relationships with Nate (Jacob Elordi) and Maddy (Alexa Demie) being the most straightforward, disturbing representation. Nate is abusive and controlling, and Maddy keeps going back to him despite the fact that he's open about having little to no respect for her. Maddy even went so far as to frame another man for abusing her because she didn't want to admit Nate was the perpetrator…" 
As scary as it is, toxic relationships in high school are very common. People may be in denial that they're in toxic relationships in the first place. Maddy was in denial about her relationship with Nate for such a long time, but that was only because it was all she'd ever known and she was convinced that it was love. 
Junior Helena Urquiza had thoughts about the toxic relationships on the show.
She said, "I guess the main things that the show got right were toxic relationships, how people don't notice it or emphasize because we're young. In the show's friend groups, everyone knew everything and they all just shared things within the groups. It showed how fast people can switch up and it was pretty accurate." 
Another topic "Euphoria" tackles is drug use. This is one of the most common and talked-about themes in the show, as the main character Rue had gotten out of rehab in the first episode of the first season. 
According to "Girls United," the Drug Abuse Resistance Education program criticized "Euphoria" for its portrayal of drug addiction and substance abuse.
"As shared, the show follows 17-year-old Rue Bennett (portrayed by Emmy-winning actress Zendaya) who struggles with drug addiction. On January 26, the Drug Abuse Resistance Education (D.A.R.E.) program slammed Euphoria to TMZ, with a representative saying, "'Euphoria'…chooses to misguidedly glorify and erroneously depict high school student drug use, addiction…and other destructive behaviors as common and widespread in today's world.'"
However, my personal opinion is that "Euphoria" humanizes substance abuse. Every major character in "Euphoria" is given a backstory which gives watchers insight on how they come to be who they are. In Rue's case, she lost her father just before she started high school. The grief of losing her father was so devastating, she turned to drugs to cope with the pain. "Euphoria" also shows how the people surrounding Rue are affected by her habits. For example, her 12-year-old sister Gia is often depressed, and one scene even shows Gia almost partaking in drugs herself before Rue steps in. Throughout the show, Rue struggles with her drug issues and fails to stay sober, even after her drug dealer cuts her off. Although the social issues in the series are dramatized, the show further emphasized that they exist, and problems like drug use could have an underlying cause that correlates with trauma and mental illness. 
An anonymous junior said she related to the mental health issues that are portrayed in the hit HBO series.
"Many people go through something, and I feel like at times I go through dealing with anxiety and depression like any other teen. There's usually so much put onto me which causes me to stress and leads me into becoming very anxious," she said.
One thing that the show definitely got wrong about high school is the clothing that is worn to school. Many of the outfits that are worn in the show would immediately get the students in trouble for violating the dress code. 
"The one thing I would say is inaccurate is the outfits, no one dresses like that and if they do they're definitely the only one, schools aren't okay with that," said Urquiza.
An article from Cracked used Jules Vaugh's school outfits as an example. 
"At nearly any other high school throughout the continental U.S., Jules would be forced to swap many of her signature plaid skirts with baggy gym shorts from the moment she stepped on school grounds, all thanks to the infamous 'knee-length or bust' rule." 
However, Girls United stated that the clothing was based on modern trends, like the rise of fashion from the early 2000's. 
"Now it's commonplace for schools to have stringent dress codes, and if you don't follow it, you'll either be sent home or forced to wander in PE clothes. So, while their school clothing may not be the most accurate, their attire for social events and the like is pretty spot-on. Right now the early 2000s sense of fashion is seeing a huge resurgence—which 'Euphoria' depicts."
Junior Alejandro Prado gave his overall thoughts on "Euphoria's" accuracy.
He stated, "'Euphoria' is the type of show that you shouldn't really believe when trying to find out what high school is like. It's a show meant to entertain people and only that, if you want to watch the show that's great and if you don't that's also fine."
"Euphoria" has lots of complex storylines that highlight the troubles of being a teen. It may not be 100% accurate but nothing ever is. At the end of the day, it's just a TV show and your life will never be exactly like it. In the case of "Euphoria," be glad. 
View Comments (11)
About the Contributor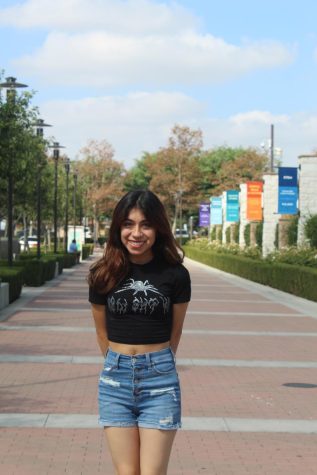 Valerie Chavez, Arts & Entertainment/Sports Editor



I have two older brothers, I love going to New York, and my favorite movie is "Psycho" (1960).