MCHS grows a stronger bond with SAC
Over the past 25 years that MCHS has existed, there have been reports of tension between the two schools. MCHS has been on the SAC campus since 1996 when it was founded; the relationship between the two schools wasn't as strong as it is now but it has grown since. The most recent Memorandum of Understanding agreement (MOU) was made on July 1, 2021, and its expiration date is on June 30, 2026. The MOU talks about all the agreements made between the two schools and has some base rules made here.
 The MOU states that MCHS is responsible for hiring staff and that SAC is responsible for the facility. All of these little things that are made are there so that MCHS and SAC can respect each other's campuses and so there won't be any disagreements/misunderstandings between the two.
We recently got our old building back which is the B building, and SAC allowed us to have it back sooner than it was supposed to be. The original date for the building to come back to us was supposed to be July 1, 2023, but we got it earlier and got an extra bungalow which is currently the office building. SAC has also agreed to let us have a security officer on campus but SAUSD is responsible for obtaining them. This allows the students to stay safe on campus and provided someone securing that nothing out of the ordinary is happening; our supervisor is DSO Joe Frausto. He was hired by SAUSD and is allowed to roam our campus keeping everyone safe and at school at all times. If there is ever a Title IX investigation (that protects students in connection with all academic, educational, extracurricular, athletic, and other programs of the district) going on the MOU states, "Matters of Title IX investigations involving both RSCCD/SAC and SAUSD will be handled cooperatively between the appropriate RSCCD/SAC and SAUSD administrators and Title IX investigators." This has helped improve the relationship between SAC and MCHS because it makes it look like they want to help us and care for us. 
So far the relationship between these two schools has seemed to improve these past few years and there is a noticeable change going on. The college administrators have focused more on dual enrollment lately and it has increased the relationship between the two schools. The higher focus on dual enrollment allows the students to feel more academically included and actually get ahead with their careers. This also helps them follow the path that they desire in obtaining an AA degree or not.
"At first I was nervous about teaching high school students and college students at the same time but I was wrong for being nervous. The reason that I came back to teaching in person was because of the high school students, I really love and enjoy teaching them, I love the idea of having MCHS students in my class because they are awesome and they don't cause me trouble," said Business Applications professor at SAC, Adam Morgan.
College professors enjoy having MCHS students in their classrooms. They have a nice bond with them and enjoy teaching them.
"I currently don't know the relationship between the schools but I hope it's good; I have seen a lot of support from both sides with students, and ever since the hiring of the new president at SAC, President Nery, there has been an improvement in dual-enrollment which has helped the relationship with the schools come closer," said Morgan.
With the hiring of President Annabelle Nery and a higher focus on dual enrollment, there has been a growth in both schools. She has been focused more on the dual enrollment part of the school and she is talking more with the administration of SAUSD and MCHS on how to improve classes to help us.
Our MCHS staff has also noticed an improvement on the relationship between SAC and MCHS over the past years. SAC has shown their interest in MCHS students and have shown they want to help us.
"I think that SAC does care about MCHS, they make the best effort to ensure that students have access to all of the resources that they offer and they help pay for the college classes and textbooks," said U.S History teacher, Rafael Ramos.
SAC has done its best to try to improve its relationship with us and it has given us more opportunities with MCHS so that the students get a better education. SAC has been able to maintain a stable relationship with us and with the focus of dual enrollment, it helps students become more academic-focused and get ahead on their career and major choices. 
I personally have not had any problems with SAC regarding classes or anything campus-related. SAC has been able to give me enough opportunities to get ahead of my education and even given me the opportunity to receive the AA degree. I personally do think that the college has done a better job with our school by returning our old building back and giving us access to the whole building including the extra bungalow. Without SAC, MCHS wouldn't be able to offer as many opportunities as it does now for the students. I also have loved learning at the college and the professors are really nice and enjoy having us in their class.
About the Contributor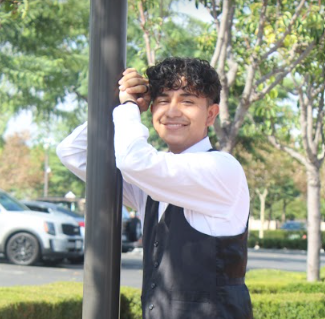 Juan Alvarado, Staff Writer



I like to draw, I like to play video games, and I like to play soccer.