Halloween events happening in Orange County
If you have been waiting for fun and interactive Halloween activities to do during the month of October, you're in luck. In comparison to previous years, celebrating Halloween has become difficult due to Covid restrictions and the closing of locations. However, this year is an exciting year because there will be many more events taking place in Orange County for everyone to enjoy. Here is a list of events to go to in celebration of Fall and Halloween.
Anaheim GardenWalk
321 W. Katella Ave.
Anaheim, CA 92802
Sea Level & Garden Level
Starting on the first day of October, Halloween Carnival will be held every Friday, Saturday and Sunday of this month in the city of Anaheim. Fridays will be from 4 p.m. to 9 p.m. Saturdays and Sundays will be from 1 p.m. to 9 p.m. There will be over 50 vendors, 12 food vendors and food trucks, entertainment, and pumpkin photo ops. This event is free admission, but you must register. This event will take place at Anaheim GardenWalk. 
Knotts Berry Farm 
8039 Beach Blvd.
Buena Park, CA 90620
Located in the city of Buena Park, Knotts Scary Farm is one of the most popular Halloween attractions in. Starting September 22 through Oct. 31, Knotts will be open from 7 p.m. to 2 a.m. This attraction includes terrifying mazes, scare zones, and roaming monsters. 
Big Wave Car Wash
2219 Lincoln Avenue
Anaheim, CA 92801
This event provides a car wash experience with a haunted tunnel that you and your friends or family can enjoy located in the city of Anaheim. The dates available include Oct. 13, 14, 15, 20, 21, 22, 27, 28, 29, and 30 from 6 p.m. to 10 p.m. There is no age limit; all visitors are expected to remain in their vehicles throughout the duration of the event and asked to follow the rules put in place. 
4. Halloween Dance
At Middle College High School, a Halloween dance will be held Friday, Oct. 28 from 6 p.m. to 10 p.m.  Located in the small gym, the price of tickets are $15 with the ASB sticker and $20 without the sticker. The theme of this dance has been revealed as Coraline.
Santa Ana Zoo 
1801 E. Chestnut Ave.
Santa Ana, CA 92701
Boo at the Zoo is a fun Halloween trick or treat trail through the Zoo. It's going to be held for two weekends at the Santa Ana Zoo. The dates are set for Oct. 22, 23, 29, and 30 from 5:30 p.m. to 7:30 p.m. Admission is free for children under 3 and $29.95 for the rest of the public. 
6. Pumpkin Patch at Tanaka Farms
Tanaka Farms
5380 3/4 University Dr.
Irvine, CA 92612
This is one of many pumpkin patches located in the city of Irvine. Open Saturday Sept. 17 through Oct. 31, Tanaka Farms' pumpkin patch will be open from 9 a.m. to 6 p.m. General admission is $10, does not include a pumpkin, and children under 2 are free. They offer entry to the pumpkin patch, Strawbale Maze, and many photo opportunities. Along with admission, you will need to purchase a $10 parking permit. Here is a list of more pumpkin patches in Orange County. 
7. Camp Frida 6: Holiday Horrors
The Frida Cinema
305 E. 4th Street Ste 100
Santa Ana, CA 92701
Camp Frida 6 is a horror movie marathon hosted by the Frida Cinema located in Santa Ana. This 12-hour movie marathon will be held on Saturday, Oct. 15 at the Frida Cinema in Santa Ana. The doors open at 7:30 p.m. The films start at 8 p.m. and end at 8 a.m. with 15-minute breaks in between for a chance to refill snacks and bathroom breaks. Tickets start at $25 for General Admission and $50 for VIP tickets that include early access, priority seating, and a goodie bag.
The Vintage Vault 
Upland 308 N. 2nd St.
Upland, CA 91786
On Saturday Oct. 15, from 5 p.m. to 10 p.m., this free expo is brought to you by Gordita & Grenuda, with over 60 vendors to shop from, live DJ, and many photo opportunities. It will take place at The Vintage Vault in Upland. Admission is free but you do need to register.
13861 Gershon Pl.
Santa Ana CA 92705
This home haunt is located in Santa Ana and is one of the largest and longest running home haunts in Orange County. Admission is free but donations are accepted.  This home haunt will be hosted on Saturday Oct. 29 and Sunday Oct. 30 from 7 p.m. to 10 p.m. They also offer a "No Monster Walkthrough" experience for children and families without monsters both days from 5 p.m. to 6 p.m.  
10. Santa Ana Haunt: Shades of Hell: Goodbye 
2309 W Cubbon St.
Santa Ana, CA 92704
This haunt is located in Santa Ana and the dates available are Oct. 21, 22, 23, 28, 29, 30, and 31. Fridays and Saturdays are available from 6 p.m. to 11 p.m.  Sundays and Mondays are available from 6 p.m. to 10 p.m. There is a $5 minimum donation.
11.  Haunted Trails in Laguna Niguel
29751 Crown Valley Pkwy.
Laguna Niguel, CA 92677
This haunt is available starting Oct. 13, 14, 15, and 16. The admission is $10 per person. Oct. 13 & 16 will open from 6 p.m. to 9 p.m. Oct. 14 and 15 will be open from 6 p.m. to 10 p.m. 
12. Dark Harvest
5702 E. La Palma Ave.
Anaheim, CA 92807
This trail event takes place just outside the national forest at Shady Pines Asylum in the city of Anaheim. Available Oct. 7 -19, 14-16, 20-23, and 27-30. Each admission is $25. 
Universal Studios Hollywood
100 Universal City Pl.
Universal City, CA 91608
Located in Universal Studios Hollywood in Los Angeles, Halloween Horror Nights is filled with roaming monsters, haunted houses, and fun experiences starting Sept. 8 – Oct. 31. The tickets start at $87 to $112 depending on the day and progressively increase.
About the Contributor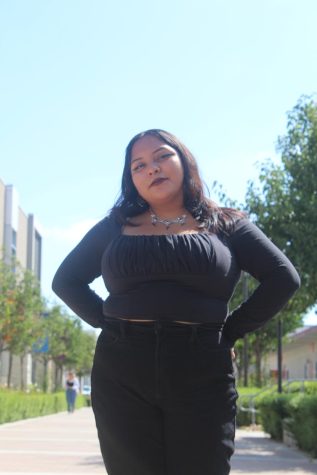 Ashley Santana, Features Editor



I love iced coffee, stopping to pet stray cats (I have 3), and my favorite holiday is Halloween.