Meet the candidates running for Santa Ana city council
Some of you may be freshmen who view registering to vote as a lifetime away, and others may be seniors ready to cast their first ballot. No matter who you are, knowing a little bit about your community and city elections is important. 
The Santa Ana city council is composed of seven people. There are six council members and one mayor. A council member's term is four years and they can hold office for three consecutive terms. The mayor can have up to four two-year terms. 
Santa Ana is divided into six different areas known as wards. You can use this website to find out which ward you live in. 
Instead of having all of the council member positions open for election or reelection at the same time, half of them are open every two years. This November, council members from wards two, four, and six, are running. In two years, it will be one, three, and five who are running. 
Local elections determine extremely important things in our community, and it is extremely important to stay informed. 
Middle College U.S. History teacher Rafael Ramos has lived in Santa Ana his whole life. 
"I think first and foremost, is being informed. I think not everyone has the time and the opportunities to get involved and be involved. But it should almost be a requirement that you are at least informed," said Ramos. 
Senior Jennifer Lopez said, "I know that voting here in local elections may not seem very important, but it is because it affects the community. Local elections are crucial in how we live our lives daily, and you know federal elections seem big but local elections are just as important."
This article will provide information for you to learn about who is running for city council and what they stand for. 
Ward Two
The two people running for city council from ward two are Nelida Mendoza, the current city council member and Benjamin Vazquez, a teacher at Valley High School. 
Benjamin Vazquez
Vazquez is a teacher at Valley High School. He created the ethnic studies program at Valley and organized the first annual ethnic studies conference for SAUSD. He helped produce Noche de Altares, and he was the director of a writing workshop for teens called Barrio Writers. 
Vazquez shared his motivation for running for city council. 
"I didn't take on this candidacy out of ambition to be a politician. I'm here out of responsibility. I cannot allow this person or others to be back on the dais. I'm here working for my families. I am here working for the students that I see day to day and the stories they tell me of families living in garages, families living with their mattresses in the living room and dining room and wanting something better for themselves. The special interests have always taken a win in Santa Ana and we've always taken a back seat, especially in ward two. I'm here to represent working families in ward two above all," said Vazquez.
Vazquez also stated what he believes should be done to address the homeless population in Santa Ana. 
"Having a different program, a program that's gonna bring them what they need. Maybe some folks need to find their birth certificate, their social security number, get an ID, get a driver's license, get a P.O. box and get a cell phone. Police aren't gonna be able to do all those things, so how do we get people off the streets? You give them those things that we take for granted," Vazquez said.
He also talked about his position as a defender of rent control. 
"Well, if I'm not elected, and they put back in the majority, and they get in another person like Valerie Amezcua or Jose Solorio, we might lose rent control, so I'm there to not give a vote up. They might overturn rent control, so my job is to protect rent control."
You can learn more about Vazquez and his campaign at his website.
Nelida Mendoza
Mendoza is the incumbent council member representing ward two. She has served in the army and is ranked as a sergeant E-5. She was also a council member of the Orange County Sheriff Department Advisory Council. She was a committee member of the Rancho Santiago Community College District Safety and Security committee. Mendoza was also the former chairwoman of the City of Santa Ana Community Redevelopment and housing commission and a former commissioner of the City of Santa Ana Environment and Transportation Advisory committee. 
Mendoza also has worked as a teacher in the Santa Ana Unified School District.
Her campaign website describes her as "committed to giving back to the community of Santa Ana that has given her so much."
Her website also states, "Due to her excellent work-ethic and leadership skills, Nelida will strive to exceed all expectations as a dedicated public servant on the Santa Ana City Council."
Mendoza's website states that she will, "Address the homelessness crisis through proper mental health and placement services, not jail." and that she will "focus on jobs and career pipelines for youth and at-risk communities."
Mendoza discussed her belief in the importance of law enforcement.
"I don't see graffiti as I drive through Irvine, their parks are clean, and I don't see any homeless issues. That's one of the areas where our officers are beneficial to our communities because they help to maintain proper enforcement of our laws and they try to keep our streets safe" said Mendoza. 
She also talked about why she believes it is important to invest in building Santa Ana youth's career readiness.
"In order to build on their life skills as productive young people, they need to have some kind of trade or training so that they have those skills to be marketable and compete in this 21st century in jobs that are in demand so that they will always have employment and in turn, this brings economic growth to our city because once these young people start working, they will be paying into the taxes and that tax revenue comes back to the city," said Mendoza. 
Mendoza also shared how her life in Santa Ana influenced her to run for city council.
"I think Santa Ana is very welcoming and has its arms open for people from different cultures, and that's one of the things I really enjoy about Santa Ana is that I feel at home. It's been my home since 1965. This is where I've lived, and it's always felt very at home and comfortable. And one of the reasons that I'm running for re-election is because I want to continue to offer that sense of community and be home for our residents," said Mendoza. 
You can learn more about Mendoza and her campaign at her website.
Ward Four
The two candidates running to represent ward four are Amalia Mejia, a researcher, and Phil Bacerra, the current council member. 
Amalia Mejia
Mejia is a researcher who has worked with UCI on a project in which she surveyed Santa Ana residents about the building of the OC Streetcar. She is pursuing a Ph.D. in urban planning and public policy. 
Mejia shared the moment she realized she knew she would run for city council. 
"I have had the privilege to go to school, to work in Sacramento, and to work with counties across the state. I have the skill set to be in city council, so I said it's time for me to serve my community and really have someone who grew up here and lives here. I have very similar lived experience that a lot of people here in the city do," said Mejia. 
She shared what she believes Santa Ana is. 
"When I was in college, or when I was working in Sacramento, I always came home at least once a month because this is where I am happy being home and being with family. That's what it means to me being here. It's family," said Mejia. 
Mejia also discussed the importance of senior care in Santa Ana and how she plans to make improvements. 
Mejia said, "As we know mental health, depression, and anxiety is really high among the senior community and often if they are in isolation, or if family members have to work, if they don't have someone taking care of them, it really impacts the entire family structure. So making sure that we have a sense of community, and that they feel they can go to a place and receive their resources or even just to have company, we often forget that our seniors very much need that and they might not all have that. For those that don't, we can provide services or at least a location for that."
She also shared her thoughts on public safety and law enforcement in Santa Ana. 
"Historically when law officers or any law enforcement goes into certain areas they often think that they are protecting themselves against the people who live there, and not protecting their community, and it's time that we protect everyone in the community of Santa Ana," she said. 
You can learn more about Mejia and her campaign at her website.
Phil Bacerra
Phil Bacerra is the current council member and Mayor Pro Tem running for reelection to represent ward four. He received a bachelor's degree in urban planning from USC.
Bacerra discussed why he ran for city council. 
"Knowing what should be happening in our city, and not seeing certain basic things fulfilled, it just really is one of those things where, my wife and I, we own our home, we're invested in the city, this isn't just some sort of, let's just try it out and see if we like it. We both grew up here so, it was really one of those things where either you can keep complaining, or you can roll up your sleeves and get in there and do the work," said Bacerra. 
He also shared his belief in the importance of funding for law enforcement. 
"The problem that you have today is that you have a lot of other crimes that are impacting our overall quality of life, that officers are having a hard time responding to, not because of the quality of their response, but rather that there's not a quantity of officers, so we need to make sure that we have enough officers on the streets, which we don't have today," stated Bacerra. 
He also said, "While some may say that we're committing so much to our police department if you think about it, if you are going to give somebody the responsibility of maintaining safety, and part of that job may or may not involve life-threatening situations, you want to make sure that those folks are very well trained, and that they have the best equipment available, because literally what they encounter are life and death situations. You don't want to go cheap on something like that. You want to make sure that you are, I would say beyond adequately funding something so vital."
Bacerra also discussed what he admires about Santa Ana. 
"I love not just the diversity of people, but I love the diversity of experience. I love the diversity of energy. Santa Ana has so much," said Bacerra. 
Bacerra also talked about what he wanted for businesses in Santa Ana. 
"And so while we're trying to encourage folks here in Santa Ana, homegrown, local, small mom and pop businesses, they were saying, 'Thank you, no, we love living here, but it's cheaper to operate in a neighboring city.' So those are the types of things that I've been working on to try to help so that, you know, we're either competitive with other cities, or what I hope for is to be better business climate-wise than other cities that will encourage more businesses to open here," Bacerra said. 
You can learn more about Bacerra and his campaign at his website.
Ward Six
The two people running for city council from ward six are Manuel "Manny" Escamilla, a city planner, and David Penaloza, the current council member from ward six.
Manny Escamilla
Escamilla received a Master's degree in Urban and Regional Planning from UCLA and served as a policy aide to Mayor Vincente Sarmiento.
Escamilla discussed the importance of increasing environmental safety for the residents.
"It really comes down to the disproportionate amount of exposure to pollution that occurs in ward six," he said. 
Escamilla talked about the history of the industrial areas coming into contact with residential areas in ward six and its effects on the residents. 
"Now we're left with is this area along the Standard mini corridor, where you have you know, heavy industrial uses immediately adjacent to multifamily structures, and typically exposing folks on the lower end of the socio-economic side of things so just like poorer people in our city, having them exposed to higher levels of air water, and ground contaminants. That's something where, over time, what we should be doing is essentially creating additional buffer space. We still would probably maintain the area as industrial, but you would have buffered areas where you would say anything that is emitting any known carcinogen or anything that we know to be poisonous or anything we know that ends up impacting the development of human beings, that we would basically start phasing out those permits and those licenses over time. Eventually, we'll probably end up with warehouse uses, large retail, and other kinds of things that could still be utilized at that location as an industrial use, but wouldn't necessarily be polluting, or at least exposing people so close to the area."
He also stated the importance of investing in programs for the youth of Santa Ana. 
"I believe that prevention work is the most cost-effective way to move forward. We actually do lessen the number of crimes occurring in an area with those early investments in social programs, and in this city that looks like after-school recreation programs, and specific educational opportunity tours. I think that those things are very important to do, and especially if we do them in a targeted way in which those that could benefit the most potentially from those programs are the ones that are prioritized for them."
You can learn more about Escamilla and his campaign at his website.
David Penaloza
David Penaloza is the current city council member who is running for reelection. He volunteered as a tutor and mentor for youth in Santa Ana before being elected to city council. 
He described the visit to a local park that inspired him to run for city council. 
"It was basically being a lifelong resident in the city and seeing the quality of my local park. Being again the highest taxed city in the county we should be able to look like we are the highest taxed city in the county and that's not the case. You go to any park in any other city in the county and it is immaculate. It's a beautiful well-funded park and maintenance is up to par. That's kind of what triggered me to run for office," stated Penaloza. 
Penaloza also discussed his plans to improve public safety. 
"Improving public safety is reducing 911 response times. The hundreds of residents that I have spoken with in the city, want to see more officers on our streets. They want to see more police officers going through neighborhoods and having that police presence, but there's also an accountability factor that needs to be considered. Police accountability is very important to me, which is why I was the one that brought forward a police oversight commission in the summer of 2020 because that's important to have accountability and trust with a department that is vested with the responsibility to keep our community safe," said Penaloza.
He also discussed the importance of investing in the youth of Santa Ana. 
"Investing in youth and youth programs is important because a lot of the times when we see a city like ours that has dozens of active gangs throughout the city, it's because maybe these young gang members didn't have the tools or resources that they needed when they were young to be able to get to that root cause of why they chose a life of crime.
You can learn more about Penaloza and his campaign at his website.
Mayor
Due to Vicente Sarmiento stepping down as mayor to run for the OC board of supervisors, there is one position open for mayor and there are four candidates running: Sal Tinajero, Valerie Amezcua, Jose Solorio, and Jesse Nestor. 
Sal Tinajero
Salvador "Sal" Tinajero currently serves as Trustee of the Rancho Santiago Community college district and has served on the city council for 12 years. 
"I think I am the most qualified person to be mayor because I've served on the school board for six years, I served on the city council for 12, and I was mayor pro tem. I also served during one of the most toughest times you could serve it was during the great recession and now I serve on the college board of trustees, so no one has ever had that type of experience," stated Tinajero. 
He discussed his plans to hire officers trained in mental health. 
"I want to expand our policing, but in this fashion, I want to hire 100 officers that are trained with mental health training, so that when they go to a domestic dispute call, they are trained to understand and scale down, but more importantly, after they've scaled everything down and talk to the folks, then they can give them avenues on where we can go ahead and get treatment, where you can get a counselor for free, that can do family counseling," stated Tinajero. 
Tinajero also discussed how he does not feel the need to vote in the interest of special interest groups. 
"The beauty about me is that, when it comes to special interest, I don't need to be funded by special interest. I have my own company. I could self-run my campaign. That means that I have voted to lead based on the needs of Santanaros versus trying to placate the large corporations that always want us to create laws that support their cause, but not necessarily our cause."
You can learn more about Tinajero and his campaign at his website. 
Valerie Amezcua
Since 2014, Amezcua has served on the Santa Ana Unified School District and has served as president or vice president for five out of the eight years that she has served. 
Her website states, "I'm running for mayor because I love Santa Ana and our city's residents deserve a mayor who will listen to them and work hard to deliver results at City Hall. As mayor, I'll implement new ideas to reduce homelessness and build housing, I'll work with first responders to make neighborhoods safer, and I'll build stronger partnerships with our schools and youth programs."
Amezcua's website also states, "She will be a mayor who listens, takes action, and delivers results. From more effective approaches to expanding workforce housing and reducing homelessness to working with first responders to implement practices that build trust with the community, she will prioritize the health and safety of the people who live, operate businesses and access programs and services in Santa Ana."
You can learn more about Amezcua and her campaign at her website.
Jose Solorio
Solorio received a master's degree in public policy from Harvard University. He has served as a California Senate Assembly member and a Santa Ana city council member. 
Solorio's website states, "I'm running for mayor because I believe 'A Brighter Future for Santa Ana' is still possible."
His website also describes his plan to address homelessness in Santa Ana. 
"The homelessness problem needs to be addressed by enforcing our anti-camping laws and partnering with the state, nonprofit and faith-based organizations to help us get homeless individuals into mental health and drug treatment facilities, effective shelters and job training programs," stated his website. 
His plans for investing in social programs are also addressed in his website. 
The website states, "The city must invest in after-school and summer programs to help students succeed in life. Similarly, we should support Santa Ana small businesses to help them stay open and serve our community. We can shift cannabis tax revenue and seek grants to fund these initiatives."
You can learn more about Solorio and his campaign on his campaign website. 
Jesse Nestor
Jesse Nestor is a college student and Santa Ana resident who works in Santa Ana. 
He describes his "help the willing, kick out the unwanted" idea of addressing the issue of homelessness in Santa Ana. 
"It's more of a community policing policy where we set the standards that we once had in Santa Ana which is essentially that the homeless can stay as long as they don't disrupt the people essentially. We want to deter all the aggressors in the event that there are any aggressors, those who want to advocate for violence, doing drugs in front of kids, and harassing people. It's just a matter of kicking them out and letting them know that that will not be tolerated here," Nestor said. 
He also discussed his "parents in class initiative" idea. 
Nestor said, "The parents in class initiative is essentially setting up cameras in classes, not towards the students, but towards the teachers and what they are teaching. This is going to be used to benefit the students, the teachers, and the parents because it will provide the parents a resource of how to help their kids with their homework. It will provide them insight on what their teacher is teaching. It provides them information of how their kids act in class."
Nestor also talked about what he loved about Santa Ana. 
"I love Santa Ana just based on its diversity and how the culture fits into growing up here. It's my home," said Nestor. 
You can learn more about Nestor and his campaign at his website.
Learning More
All of the candidates have informative information on their websites and social media sites. I encourage you to visit them and learn more about which candidates you believe are the best to serve on the city council.
About the Contributor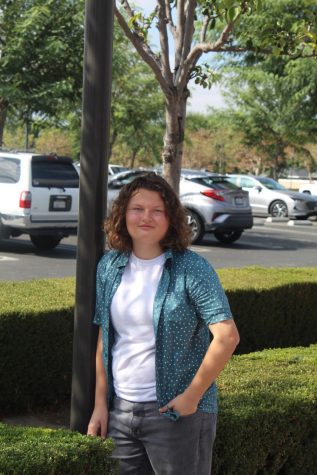 Andoe Glaser, Co-Editor-in Chief
I have a level 5. Paladin Half-Elf D&D character, I've been to an Angels game where they got seven solo home runs but still lost, and when I'm...