The Masked Substance
While the spooky season approaches, the illegally used opioid "rainbow fentanyl" brings about concern and fear in parents. As others put on costumes and the leaves change color, so does this drug. Made to resemble candy and sidewalk chalk, legal guardians and parents have become hesitant to allow their children to trick or treat. However, this Halloween seems to be more of a trick than a treat.
This terror began around August when DEA officials reported the discovery of colorful pills about 50-100 times stronger and more deadly than narcotics and opioids such as heroin and morphine. Even consuming about two milligrams of this vibrant pill can be lethal, which seems to be one of the main factors of panic in parents and even students. After distressing incidents in the Los Angeles Unified School District, Narcan (a medication used for overdoses) is being distributed to schools for kindergarten through 12th grade. What began as minor accidents with this opioid has quickly escalated to about an 85% death rate for fentanyl and 150+ overdoses per day. Various local parents have taken newly formed measures to protect their children for this upcoming holiday.
A parent in the community, Leticia Acevedo, shared her negative experience and concerns about Halloween this year after learning about the fentanyl narcotic more. 
"When I had children, the hospital gave me a dose of morphine without context. They told me the medication would be to soothe the pain after childbirth and said nothing else. I remember feeling sick, nauseous, and groggy after this. I mean, if morphine caused this much discomfort to me, I can't imagine what pills laced with fentanyl must do to others who aren't aware of the dangers. It's unbelievable how such a small amount can kill you," Acevedo said.
"I am hopeful that these overdosing cases do not spread to Orange County, but deep down, it still scares me that young people have a target on their back. It's the fact that the drug looks like candy that worries me. I'll probably have to be ridiculously cautious if I let my kids go out this year," Acevedo said.
Although this local parent had many doubts about the community's safety, numerous students feel this way too. Some are even skipping out on trick or treating this year and likely staying home instead.
Freshman Emily Melchor prefers to stay home this year instead of going out with friends. Part of her decision has been influenced by her parent's concerns as well, although she agrees with them on this safety precaution. Because her school is hosting a Halloween dance and selling tickets to join a community service project for this holiday, Melchor is glad to attend these.
"At first, I didn't really know what this thing was, but I started hearing about it on the news, and my parents told me about it. Fentanyl is essentially a powerful drug that can kill someone in one dosage. I don't exactly see myself going out this year unless it's school-related," Melchor said.
Since community members don't feel very safe on Halloween, several Orange County community settings and police departments will have mini-events varying from names such as "Trunk or Treat," "Cops N' Goblins," and more for residents to feel at ease. These events allow attendees to take candy, listen to music, look at decoration displays, and take photos. This is all while being protected from their innermost worries about tainted candy. 
When asked about her plans, resident Marlene Vasquez, who passes out candy to neighboring kids, has made some noticeable changes for celebrating Halloween this year.
"Well, for my kids, I was actually thinking instead of taking them out trick or treating, maybe doing something for them myself. I don't feel safe anymore because I don't know if those fentanyl candies will be in my neighborhood or community. I would probably end up taking them somewhere like an event with the church, where everything gets checked before handing them out," Vasquez said.
Vasquez also fears that other parents will distrust receiving candy from their neighbors, and she is considering what different brands would be appropriate to pass out this year. 
"I'm also thinking about it now because I'm asking myself what kind of candy I can give the kids. My neighbors know me but don't know where I purchased my candy and if it could have something," Vasquez added.
Acevedo often hands out candy of her culture but has opted to pass out chocolates (Snickers, Reeses's Pieces, Twix) or pretzels instead. She hopes to ease some parents' worries about cartels smuggling rainbow fentanyl across the border. Although Acevedo feels that others shouldn't be scared of the candy she passes out, she ultimately wants others in the community to feel safe.
"This is the first year I've had to think twice about what type of candy I should pass out that parents won't be concerned about," Acevedo said.
Another student in the local school district, Daniela Villegas, voiced her doubts about others' knowledge regarding fentanyl-laced products. 
"I feel concerned, considering how little this topic is being talked about right now. I wonder how many adults and kids my age there are, who don't know about rainbow fentanyl," Villegas said.
Ultimately, there is no statistic on how many citizens in our community are informed about rainbow fentanyl. Although others tamper with candy every year, this year has heightened a wave of uneasiness in both adolescents and parents. This year the stakes are high, as getting your hands on the wrong stash of candy can definitely be fatal. After all, what isn't more spooky than a deadly drug that looks like candy?
About the Contributor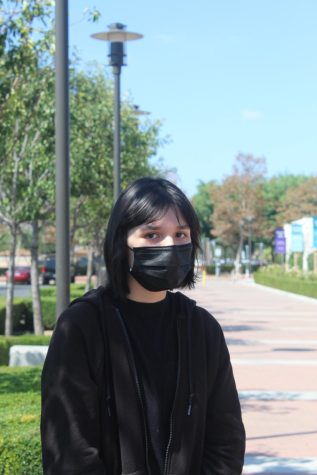 Angelina Acevedo, Staff Writer



I own 12 pets, my favorite book genres are mystery and horror, and I'm learning to play the violin.