Respiratory viruses to be on the lookout for this winter
On March 11, 2020, the World Health Organization (WHO) declared COVID-19 a global pandemic. More than 118,000 cases had been confirmed in 114 countries, and 4,291 deaths. 
It's been over two years since the pandemic was declared. The number of cases has gone down and people have stopped wearing masks. Many would say we are back to what used to be our normalities pre-pandemic, but there are still many viruses to be aware of.
So, is the pandemic over? 
We aren't where we used to be two years ago. We are slowly going back to what used to be our normal. People have stopped wearing masks, students are back learning in classrooms, and social events are coming back. We are doing indoor things again like going out to eat, shopping, and hanging out with friends and family.
After two long years, people have decided to stop wearing face masks.
"I mostly see faces when I'm out. I don't really see a whole lot of masks anymore," said Dr. Sinda Althoen, a pediatrician in Orange County. 
But, even though we are returning to our pre-pandemic lives, COVID-19 is still transmitted among individuals. We are currently in a good place as the number of COVID-19 cases has gone down. The United States and some other countries are currently in the endemic stage, but worldwide we are still a pandemic. 
"We are in a really good place. As far as the pandemic goes, I do not think it's over. Research shows that most pandemics take two to four years to kind of work through before they're considered endemic. And so according to that theory, we still have about two years to go," said Andrea Foster, Coordinator of Health Services and Home Hospital Instruction for Santa Ana Unified School District.
New viruses to be aware of
Respiratory Syncytial Virus (RSV)
Respiratory Syncytial Virus is an infection of the lungs and respiratory tract. This virus can affect all people but is severe in infants, children, and older adults. People with RSV show symptoms of a cold. But this virus can cause more serious health problems such as bronchiolitis and pneumonia. This is more common in children younger than one-year-old. 
"I just got noticed today from Orange County Healthcare Agency that not only is influenza here and on the rise, but so is what we call respiratory syncytial virus, which is RSV, which primarily affects infants. So many infants end up in the hospital really sick," said Foster.
The Flu
In the last two years, we didn't have a flu season because COVID-19 was the more dominant virus. But this year the flu came early. In California, we are already seeing some flu cases when they don't usually start until January. Many other states have already reported many cases of the flu.
"It's going to be a bad flu season because we didn't have the flu in the last two years since we were wearing masks. So now people are going to be out in public and doing things, and so we're worried that it's going to be the flu, maybe worse than COVID this winter," said Dr. Althoen. 
"The flu is definitely going to be in full force. I just read an article yesterday that indicated that overseas it's the worst they've had in five years," said Foster.
New Variant
The United Kingdom is currently monitoring new variants that are both sub-variants of Omicron. These new variants are BA 2.75 and BQ 1.1. 
"There is a new variant that they are monitoring out of the UK. Because we are seeing a big surge in the UK right now, we highly suspect that we're going to see more of that. And that happens to be the BA 2.75 and the BQ 1.1. Those are both sub-variants of Omicron," said Foster.
Doctors are urging the public to stay up to day with their flu shots. They predict this year we will have a rough flu season. 
There is also a new vaccine called the bivalent on the market. This new vaccine will protect against both Delta and Omicron.
Are we looking at a 'Tripledemic' this winter?
As winter approaches, concern rises of a 'tripledemic' of respiratory viruses. There has been a rise in cases of the flu and RSV across the country. We haven't seen a rise in COVID-19 cases, but in the last two years, we start to see a rise around Thanksgiving. 
"Pediatricians across California are seeing large spikes of sick children in their offices and in the hospital setting with influenza, RSV, and hand-foot-mouth disease. As we move into the winter season, and what is expected to be another COVID surge, this is a real threat. Those who are immune compromised should take this very seriously and all should continue to consider all the mitigation strategies that we have utilized over the last couple of years: good ventilation, staying home when ill, masking, hand and coughing hygiene, and vaccinations," said Foster.
About the Contributor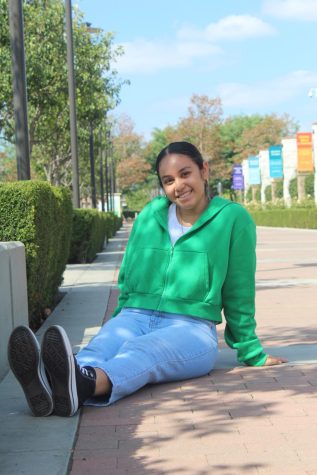 Aaliyah Candela, Staff Writer
I don't like chocolate, my favorite artists are Bad Bunny and Karol G, and I like listening to Reggaeton.