Disney faces backlash over new "Little Mermaid" trailer
Disney's latest live-action remake, "The Little Mermaid",  has prompted deep outrage and controversy among fans who argue that the casting of singer Halle Bailey has weakened the company's faithfulness to the original story. 
While Disney's remakes are constantly met with criticism from fans, this time around, the backlash is evidently racist, with all of the negativity aimed at the casting of a non-white actress to play the main mermaid.
When the film's trailer was released it was instantly flooded with millions of dislikes and hate comments from angry "fans" – although the feature was disabled by Youtube, the damage had already been done.
Many of these fans then decided to take their opinions to other platforms such as TikTok and Twitter using hashtags like #notmyariel. 
By now, we know it's not unusual to see racist responses whenever a person of color is cast in a role considered "traditionally" white. While there may be plenty of legitimate reasons to dislike a movie, these critics often hide their discomfort behind other arguments, claiming historical or cultural accuracy or, of all things, science.
A common argument they used was that such productions are insisting on what they've dubbed as "forced diversity." Critics claim that the goal isn't really to meaningfully inject realistic representation into the universe, but rather to advance a "woke ideological agenda." This logic has been particularly loud among right-wing politicians and conservative influencers.
US History teacher, Rafael Ramos, shared his thoughts on whether the film was in fact an example of "forced diversity" or not. 
 "'Forced diversity" is not a thing, it does not exist. No one is forcing people to go watch the movie. The government is not forcing the movie studios to add minority actors. If they were, then maybe we could argue that it was 'forced diversity.' But that is not the case," Ramos said.
"My suspicion is that the phrase, "forced diversity," is made up by people who are anti-black to mask their racism instead of admitting that they have racist views. They claim it is, "forced diversity." It's called coded language. It is not new. The same things happened during the BLM protests when the phrase "White Lives Matter" was created," Ramos said.
Others have also been debating on message boards and comment sections that changing the race of the little mermaid will negatively affect the way people originally perceived the character.
AVID tutor Maya Cendejas has watched movies and TV shows where a black actress or actor plays a role not originally written as Black. 
"I think in some Marvel comics Nick Fury is white, but in the Marvel movies, he's played by a Black actor. I think he played the character really well and I don't see a problem with a Black actor being cast for a white role. It didn't affect the way I saw the character at all, if anything his performance made me enjoy the character more," Cendejas said.
About the Contributor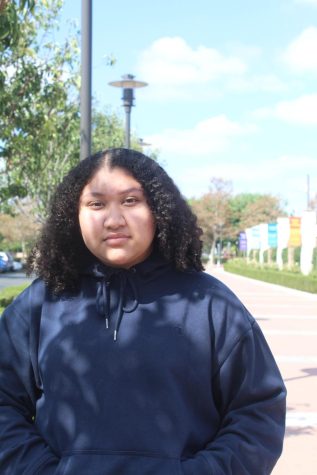 Fatima Carrera, Staff Writer



I like watching true crime documentaries, I love reading, and my favorite colors are blue and sage green.