Bonding through cooking
Imagine you are cooking at home with your family, and you pass around the ingredients to your favorite meal. You get a warm feeling about being around your family and friends while cooking. There is value in taking time to enjoy the time with your family and friends while you can. During the holiday's people have more time to gather with their loved ones to spend time with each other. The memories we share during the holidays with our loved ones are mainly food related. It's either sharing a meal or cooking the meal. It is important to spend and cherish the time that you have with your family before it's too late.
Cooking with family is special to many people during the holidays since the goal is to have fun. 
Senior Lizzette Rodriguez said, "When I cook with my family it feels nice, especially during the holidays. As we have been getting older, our schedules have been more hectic and the holidays mean more now to me so taking that time to be in the kitchen together cooking helps me to bond with my family and have that family time together."
Cooking with family can increase happiness, improve basic math skills, and improve communication skills.
Senior Alexander Gutierrez said, "When I cook with my family I feel really happy because I get to spend time with them and we make something we will get to enjoy,"
Being on break during the holidays already raises spirits for some. Getting a break from classes and having time to spend with family is very important to do because you can teach future generations unique food that has been passed down from generation to generation.
Rodriguez said, "I feel closest to my family when we do stuff together or we just sit down for a second and have family discussions and just talk about how we've been and what's been going on in our lives. Because of our schedules we see each other every day but we don't have the time to really talk about our days and what we are doing so that's why I appreciate the holidays; we get to spend more time together and such."
Traditional family recipes play a big role in connecting during this time.
Gutierrez said, "I feel closest with my family during meals and food prep because it's something we can all help with and be a part of. Some of our recipes are the tea version of a fruit punch, tamales, and pozole."
Many students feel closer to their family and culture when they take the time to cook a  meal with their loved ones. Cooking lets people get back to their roots and take time to appreciate their cultural lifestyles.
Alumni Sahira Cariño said, "As a Mexican, cooking is such a huge part of our culture. Whenever we get the chance to gather around it puts us all in a happy mood and sets positive energy all around the house. My family is always the one that hosts holiday events, meaning the backyard is always decorated and music playing at all times. The kitchen is filled with adults and children cooking delicious meals together, and the living room is filled with families having conversations and watching typically a game." 
Having such a precious tradition every year is amazing, everyone is filled with happiness around their family telling stories from long ago and new stories about their lives. Cooking for special events can strengthen the bond of family. 
Some recipes that everyone should have a shot at are pineapple cherry glazed ham and corn cake.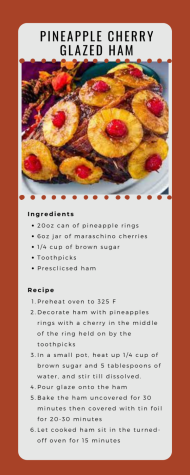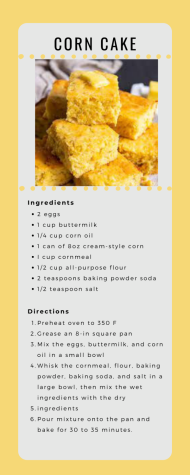 Here is a photo gallery of recipes submitted by students:
About the Contributor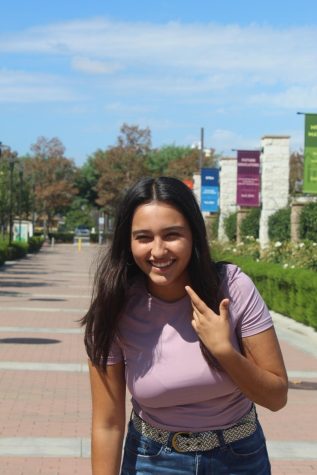 Kimberly Lopez, Social Media Manager



Obsessed with the band Lovejoy, I love Iced coffee, I have a fish named Tortilla.