"Good Kid, M.A.A.D. City": A staple in the hip-hop community
Since its release in 2012, the album, "Good Kid, M.A.A.D City", by rapper Kendrick Lamar, revolutionized the hip-hop community. With recent events involving gang violence and police brutality, many people have revisited this album to praise Lamar for his work. He transformed his personal experiences into words of wisdom and advocacy. Even a decade after its release, this album has been a staple in the community and continues to inspire many other artists.
Kendrick Lamar is a hip-hop artist who is originally from Compton. Growing up, Lamar was surrounded by violence, being only five years old when he first witnessed someone dying in front of him. He has often stated how he felt that this event changed his perception of the world."Good Kid, M.A.A.D City" displays Lamar's personal struggle with crime, violence, and racism. There are several artists who use their platforms to share their own experiences. Their stories help spread awareness on certain topics. J Cole, Notorious B.I.G., and Saba are just a few of the many artists who use their personal experiences in their music.
Senior Alan Esqueda believes music with personal connections can be varied and inspiring.
"I think it adds to it as it shows individuality as not everyone has the same story. It also helps those that are in a similar situation relate and cope," Esqueda said.
Godinez senior Louis Miller thinks we can learn from these artists and their depictions of  difficult topics like racism and gang violence. 
"I think the discussion on these issues on pieces are integral to the genre, and go deep in its history. But more than just that, it adds to the discussion surrounding these issues. Each artist brings a different perspective to an issue. Sometimes they're the victims of an armed assault, sometimes they're the assailant, sometimes they're both. It can reveal a lot about what drives people in these communities to commit crime and why they resort to art instead," he said.
Artists use their music to reflect on their personal experiences. In the song, "Swimming Pools," off the album, Lamar shares his experiences of holding his closest friend in his arms as he was shot to death. Lamar's friend died in an act of gang violence, where they were ambushed and he was caught in the cross fire. In a later song, "Sing About Me, I'm Dying Of Thirst," he goes in deeper into how he felt holding his friend as he gave his last breaths. Music can be such a powerful way to help others in similar situations relate and possibly help them get through their problems.
Further into the album, Lamar even shares an experience of when he submitted to peer pressure. "Art of Peer Pressure" is about a time in Lamar's life when he followed what his friends were doing because he thought it would make him cool. In the song, he talks about how he did drugs to fit in with his friends. This can be relatable to many people who have been peer pressured into doing things. Peer pressure is such a powerful thing that can make someone do anything that maybe malicious.
Santa Ana College Music Department Chair, John Marr explained how music has always been used as a form of self expression.
"Music has always spread awareness on problems that may not be overtly. Every artist regardless of the genre does this to communicate with their audience. Artists do this as a sort of microcosm to bigger subjects," he said.
Whether it's Kendrick Lamar, Pink Floyd, or even Bob Dylan, artists use personal experiences in their music. This allows the artists to communicate and share with their audience.
Artists don't just share their experiences just for fun, they do it for a bigger picture. Kendrick Lamar doesn't use his music to cope with his trauma, but rather he shares with his audience about things they may have never experienced or heard of. Lamar's goal has always been to share about racism in our world and how at a very young he became very desensitized to guns and drugs.
Miller further elaborated on why he listens to artists who talk about personal experiences.
"
I think everyone injects a little bit of themselves into their art, no matter what it is, unconsciously or not.
— Louis Miller
"Art is really personal to anyone. I think everyone injects a little bit of themselves into their art, no matter what it is, unconsciously or not. Being able to dissect someone's vulnerabilities, seeing how they choose to present themselves through song and how they have been shaped by their experiences never truly gets old. Each album feels like I'm learning something new about a person," he said.
With hip-hop being one of the most listened to genres for our current generation, artists can use their music as a way to communicate with their audience. They can even spread awareness on topics such as Black Lives Matter and police brutality. Listening to music that sheds light on these types of problem can even be a form of escapism for some people whole are experiencing the same things.
About the Contributor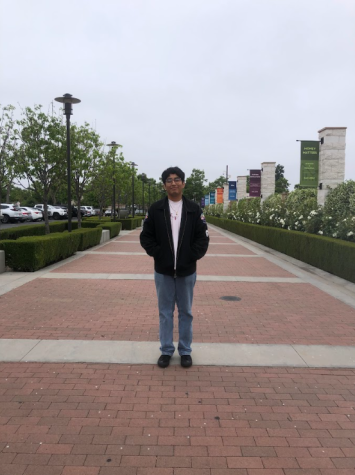 Christopher Armenta, Staff Writer
I like to run, I love Kali Uchis, and I like Star Wars.