"Pride and Prejudice": The process of putting on a play
Four young daughters search for husbands, and one of them, Elizabeth Bennet, doesn't want to marry just because she has to, but because she wants to be in love.
Advanced Drama has been putting together various shows and productions for our school and families for a few years now. This year, the play that was chosen was "Pride and Prejudice" by Jane Austen. In the play, Elizabeth ("Lizzy") Bennet meets Mr. Fitzwilliam Darcy, who falls in love with her, but she still has her own concerns.
The turnout of this show was amazing, and it was possible because of the hard work cast and crew put into the show for various weeks. We were able to sell out on most of our shows and were able to put on the show together just like we anticipated. Not only that, but we were able to get all of our costumes and props that were needed before the date of the shows. We were able to rehearse with them multiple times so that we knew exactly what we were going to do and use.
Before putting on the show, we had to prepare fast and use all the time we had productively. There were auditions that were held with alumni picking who was best for each character. When the students were informed what their role would be, advanced drama began their hard work. Some students worked on taking measurements for costumes while the rest of us practiced the ballroom dances. Since MCHS Drama and SAC's Theatre department partnered up for this production, we began preparing every day once intersession started. 
Junior Ashley Santana, who played the leading role of Elizabeth Bennet, one of four daughters who refused to marry anyone unless it was someone genuine, said, "It took me about a week to memorize my lines for the first act of the play; the second act was more complex so I was confident about two weeks before the play. Holding the script in my hand even if I wasn't looking at it provided some sort of comfort, so letting it go was difficult."
Learning what the blocking of a scene was going to be like and having to adjust to everything was also troubling. Blocking a scene is when we focus on what actions would fit best according to what's happening in a scene. We look at where we have to walk or what movements we have to do when a specific line is said. 
She said, "The blocking was easier to memorize, but last-minute changes were a little harder to get a hold of, especially when everyone else was as confused as I was. I tried my best to help anyone who was in the wrong spot, had their backs turned, or anything else." 
Understanding the characters we were playing was challenging at first, but we had to learn how to portray our roles as best as we could. I understood that my character, Charlotte Lucas, was a humorous person, but also had her own struggles. I looked her up and tried to put myself in her shoes and act in the scenes by doing what I would do in real life. She was best friends with Lizzy, so I showed how best friends would normally interact with one another while still showing who her character was. 
Senior Brandon Rubalcava, who played the leading role of Mr. Fitzwilliam Darcy, a proud wealthy man, said, "Personally, the hardest part for me was having to figure out what emotions to use and when to use them when acting. This was my first year ever being involved in drama, so I had little experience doing this." 
Our rehearsals were key in making the play happen. The advanced drama class that enrolled in this intersession course at SAC spent a lot of our own time towards this production. We came back from winter break one week early when intersession started so that we can get extra time on the show to get things that are needed in order. When the second semester started at MCHS, we still continued with rehearsals every day after school. 
Rubalcava expressed his feelings about the play.
He said, "I think the final product of the show was really good. We all poured our hearts out into our performances, and I think that it showed on stage. I think my personal performance was good as well." 
We all gave it the best, and the play came out really good because we all worked together and relied on each other for help. Teamwork was indeed essential to making this show possible.
Santana said, "It was vital for everyone to be willing and prepared to help one another, especially because people did forget lines or miss cues for props. Without those items or words being timed to where they are supposed to be, it's difficult to perform what was rehearsed. So, quick thinking and helping one another remember what we're supposed to do was important. Being on stage in front of an audience adds a lot of pressure so I understood why most were scared; even I was scared before going up on stage." 
Senior Lizbeth Cantoran, who played Mrs. Bennet, the mother of the four Bennet sisters who only wants her daughters to marry before it's too late, indicated how important it was for all of us to work together throughout the production.
She said, "Teamwork was essential to the show, Every aspect of the play depended on one another. The crew working on lights cues depended on actors, and actors depended on prop masters to have their props when they needed them."
We all relied on one another throughout the scenes and had to make sure everything was in place.
"They also depend on costume design to make sure they would be nice, and accurately clothed for the time period; directors depended on all to make sure a show was possible, and so forth," she said.
The actresses who played Elizabeth Bennet and Fitzwilliam Darcy, the lead roles, built a connection outside of the show which helped the show flow and seem much more realistic.  Their characters had to show a range of emotions in response to the other actors' actions and having to be close to each other shows how comfortable they have to be with one another so, building a friendship throughout the show was important. 
Santana said, "It was very important to me that I was able to tell the love story between Lizzy and Darcy as best as I could so that the audience was not only able to understand their relationship, but feel their emotions and love how they grew to understand each other. So with the arguing scene, I had to get extremely angry at him, but at the same time feel sad I was pushing him away."
Going from disliking each other to showing how much they actually cared for one another was an important part of the play they had to show.
She said, "It was a little difficult to get down, but I was happy with the outcome. Same goes for when I ask him to leave, but what got me the most was the last scene of the play. It was more important to me than anything else; that last scene was as impactful for the audience as it was for me when I first read the play." 
Rubalcava said, "I feel like the more one-on-one-focused scenes required the most chemistry and teamwork between us. Those scenes were meant to pull a more dramatic reaction from the audience and doing this required some more work from us. We had to create a realistic feeling of tension between the characters for this, and it definitely required more from us. However, I think those scenes were successful in the end." 
When the show was done, it felt like a sense of relief because we knew all our hard work paid off, and we did the best we could to make the show happen. We all had challenges we had to overcome, but we were able to do it together. Throughout the show, we made great friendships and memories, and it is something we'll look back on and be proud of. 
Santana said, "I loved everything about this play, and one thing I don't think gets talked enough about is the costumes. I absolutely loved the men's costumes and appreciated SAC's help on obtaining those. But I loved the women's costumes even more; they were all hand made by sewing circle and I enjoyed being able to watch the progress of each dress. They were all tailored to each actress, and it truly made me feel extra special."
Cantoran would also like to give a message to those students that may be considering joining drama in the future.
She said, "First off, I would I would like to thank everyone who came to the show, and everyone who got us flowers. They made us feel very special and loved. Also, if you're thinking of joining drama but don't know if you should, you definitely should do it. Drama isn't just acting; it's also costume design, set design, lighting, etc. If you try it and decide it wasn't for you then at least you tried it, but don't live with the regret of 'I should have joined,' because a lot of my fondest memories were created in drama."
About the Contributors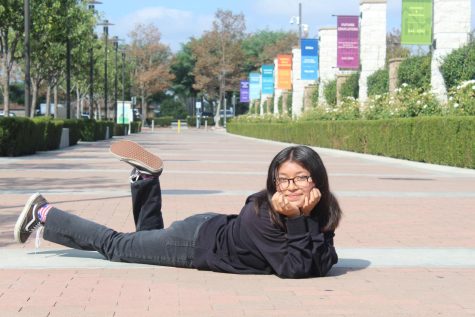 Joselin Corrales, Staff Writer



My favorite color is green, I LOVE snakes and iced coffee.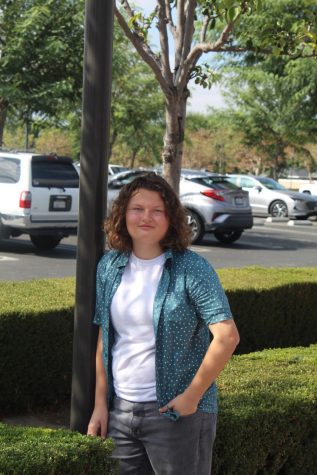 Andoe Glaser, Co-Editor-in Chief
I have a level 5. Paladin Half-Elf D&D character, I've been to an Angels game where they got seven solo home runs but still lost, and when I'm...