The gun violence epidemic hits home
Sadie Hawkins dance is cut short due to shooting nearby
On March 17, the Sadie Hawkins dance at the Dave and Busters in the Outlets of Orange mall was interrupted and put on lockdown around 9 p.m.  The music was stopped, and the exits were blocked to keep people safe. Students were safe and without harm, but there was a man found with a gunshot wound when the police arrived at the scene.  
The students present were not harmed, but they were shocked due to this experience. 
"Everything seemed to close around me at that moment. My surroundings had changed; what seemed a place full of friends now seemed like a place where you couldn't trust anyone," freshman Emmanuel Rodriguez Mejia said. 
The ongoing epidemic of gun violence is a topic that keeps coming up in the media. Mass shootings, children misusing guns, and general misuse of guns are things that are common to see on the news nowadays. So much so, it has changed the way we live and the school life of children. 
In Sept. 2022, California's Governor Gavin Newsom signed into law the Stop the Bleed bill. This law would mean that every single new building is to have a trauma kit. This would include tourniquets, gauzes, and most things that could be helpful in a dangerous situation. In schools, we have lock blocks on doors which make sure no one can open the door from the outside. On top of this, we have newly acquired a bucket that has a toilet seat for any lockdown situation where someone would need to use the restroom. 
"[Gun violence] could happen to anyone and anywhere. At least the school is taking more precautions," said sophomore Anthony Nuñez.
On the same day of the Sadies dance, the Health Career Collaborative had guest speakers from UCI speak on the medical aspect of gun violence. They had a PowerPoint slideshow to speak on statistics regarding gun wounds, laws implemented as safety measures for the public, and how gun violence impacts their line of work. 
Among the statistics they shared with the students who assisted, they presented a chart that shows the number one leading cause of death in people under 18 is firearms. Furthermore, NBC News reported school shootings to be rising for the highest number in two decades, and they also reported that roughly 2,000 children have died due to gun violence. 
In situations like these it is important to know what to do. Our school resource officer Joseph Frausto said, students should, "find a secure space, make sure the shooter can't find you, and make sure the area is blocked out." 
Dr. Theresa Chin, a board-certified Health Surgeon at UCI, and UCI medical student, Nicole Finney, both discussed how they work with an organization called SAFE. They mentioned how at a recent gathering they handed out gun locks and brought awareness for gun safety. Chin stated how restricting guns may not be possible, but making sure they are out of children's reach and used responsibly can and should be done. 
"Something we can do to reduce the amount of gun violence is to educate the people who own firearms how to safely keep them away from children. Something else that can be done is encouraging mental health awareness because a lot of reasons for gun violence is a result of hate," said sophomore Denise Loaiza Flores. 
About the Contributor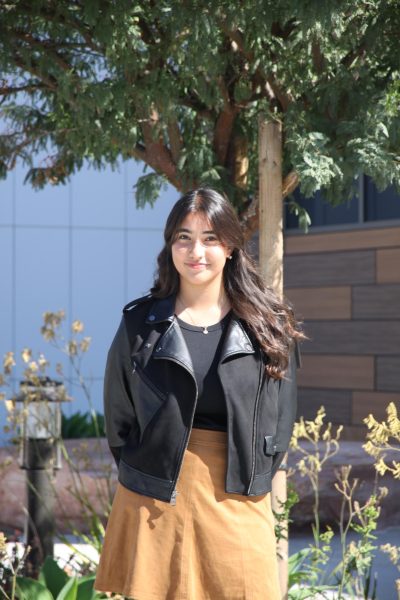 Emily Lombarde, Co-Editor-in-Chief
I LOVE listening to music!! (Taylor Swift, Lana Del Rey, The Smiths, and a lot more) My hobbies are reading and watching shows; my favorite series is Gilmore...