Meet the candidates running for ASB vice-president
For the upcoming school year, 2023-2024, the three candidates running for the Associated Student Body (ASB) vice-presidency are Anthony Ayala, Keyla Bautista, and Ruby Perez Ortega.
Anthony Ayala
Ayala is Co-President of the Communications and Writing Techniques (CAWT) club, Secretary of Gay Straight Alliance (GSA), and is part of Nicholas Academic Center (NAC). His contributions to ASB have consisted of adding ideas to the schools' first spirit week and making posters.
Ayala shares the reason as to why he decided to run for vice president.
"I wanted to run for this position because I wanted to have a bigger role in creating an environment where I can make this year especially fun and memorable for everyone," Ayala said.
Being vice president, he believes holding himself responsible is part of the role. 
"I believe that the responsibilities include holding myself accountable for things that happen, becoming an even bigger team player, and being super open to others' ideas. Holding myself accountable will help me make sure that every event is better than the last and I hope I can do that," Ayala said.
But the most important responsibility he believes is being open-minded.
"Being open to ideas is one of the most important responsibilities when it comes to having this position. You have to be able to take criticism, know what criticism is helpful, and how to implement it. That's something that I believe I am fully capable of doing," Ayala shared.
Ayala also shared how becoming vice president would mean additional responsibilities in helping.
"I want to be able to support my ASB as much as possible by working with everyone as much as I can. I want to let everyone know that just because I become vice president doesn't mean that I'll step away from my duties as a member of ASB but that I would help everyone even more," Ayala said.
In addition, he shared some of his plans for the upcoming school year.
"My ideas for the school year are to hopefully be able to find a way to use a credit card system for school dances and other things. I hope to be able to fundraise more this school year. I would like to make nooners happen a little more often," Ayala said.
All while ensuring that the student's needs are met through polls and asking them about their thoughts about the events.
Learn more about Ayala's campaign.
Keyla Bautista
Bautista is Co-Vice President of National Honor Society, part of NAC, Ladies First, Big Brothers Big Sisters, the Dance Team, and GSA. Her experience in ASB has allowed her to gain knowledge when coming to organizing events, how they should be run, making posters, and creating spirit weeks.
Bautista describes how her years in ASB motivated her to run for vice president.
"I wanted to implement some of my ideas and represent the student body. Being the vice president would be the best option for me as I would love to support the one who ends up being the president," Bautista shared.
On her website, she describes how she hopes to create an environment as a small school in which events will be implemented so everyone has the opportunity to participate.
Running for Vice-President, she believes commitment, dedication, and perseverance are the responsibilities it comes with.
"As vice-president I would have the duty to be wherever I am needed. It takes perseverance as sometimes events will unfortunately not go as planned but it shouldn't mean giving up but rather figuring out ways to work on the issues," Bautista said.
She shared the plans she has in mind for the upcoming school year.
"I definitely want to make dances more fun. Anything financial related usually depends on how well fundraisers go. Therefore, implementing better fundraisers that are more appealing to the student body," Bautista said.
Throughout her website she also shares the ideas of improving spirit weeks, creating activities for each level specifically, including clubs in more events, and building on what the previous presidents have done.
Learn more about Bautista's campaign.
Ruby Perez Ortega
Ortega is the Co-Captain of the Speech and Debate team, and founder of The School of Life organization. Her contributions to ASB include being Club Liaison, organizing club rushes, and planning the 8th grade tours. On top of that, she has helped set up dances and is active in decision-making when it comes to dance themes.
Ortega shares what made her run for vice president.
"I ran for this position because I believe I have the passion and energy to do well as VP. I also know, having been in ASB, what it takes to and how to build upon Alan's VP accomplishments," she shared.
Becoming vice president comes with many responsibilities; here are some that she shared.
"VP responsibilities include being the bridge between the student body and the study body government, supporting the president, and overall having a lot of school spirit. Also has the responsibility to socialize and be able to be the person to go to if anyone has questions or concerns about something school or spirit related," Ortega said.
For the 2023-2024 school year, here are some of the ideas she has in mind.
"One idea I have is more grade-related social gatherings, especially at the beginning of the year, so everyone in their grade gets to know one another and have a sense of pride in their grade. This, I feel, would help create a healthy competition between grades during nooners and assemblies," Ortega said. "I aim to make 2023-2024 the most spirited school year yet!"
She also shared her plan to ensure that students' needs are met.
"I also want to implement surveys after each big school event, like dances, so we can constantly take students' opinions and make adjustments throughout the year to make everyone's school event experience amazing," Ortega said.
Learn about Ortega's campaign.
About the Contributor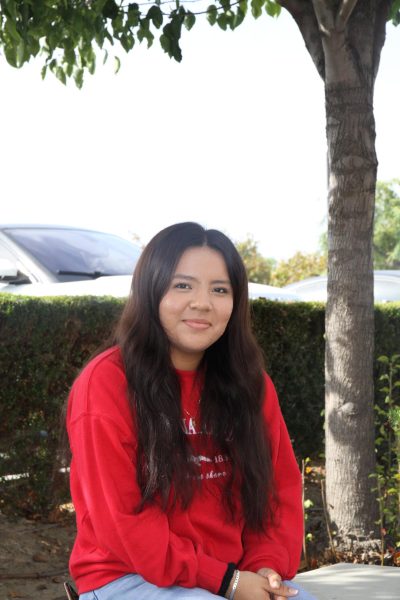 Guadalupe Vargas-Gomez, Co-Editor-in-Chief
I love listening to music, watching sunsets, and scrolling on Pinterest.