Freshman student spotlight: Thomas Piñon
As students, it's pretty disheartening to work so hard and get no recognition for it. And while we can't call out every individual student, The Spellbinder is proud to present: it's Student Spotlight!
The purpose of the student spotlight is to point out a student that is deserving of recognition. In each issue, The Spellbinder will ask the different grades to nominate a student worthy of the spotlight. We hope that you nominate students who normally don't get called out on their good deeds often.
This issue, we asked the freshman class to nominate a classmate that is worthy of looking up to, and we are happy to announce the winner of the freshman student spotlight: Thomas Piñon!

But just who is Thomas Piñon? Piñon is a student looking to go into the STEM field and renowned in his grade for being an overachieving and knowledgeable scholar.  Piñon told me, "I think I want to study something in the field in the future because I am really interested in it," and when questioned about a future school, he says, "I'm not really sure, but I want it to be in California." Lastly, Piñon came from Hewes Middle School, which is in the Tustin Unified School District, because he "was really in interested in the opportunities [MCHS] had to offer!"
"I'm happy to be getting an article," comedically remarked Piñon, "At first, I didn't want to do the interview, but now that I'm doing it, it's fun!" Piñon was described in the survey to be smart and very participative during class. Common in the responses were signs of admiration for his intelligence and his willingness to help others with their academic struggles.

When interviewing Thomas's close friends, they all had something positive to say. Robert Ayala almost immediately said, "He's a goodie goodie!" In most of the responses, they don't fail to mention his amazing character which is pointed out in almost every vote that he gained!

Overall, the student spotlight is meant to shout out students who normally wouldn't get said attention, and to inspire students to do their best in hopes of one day being recognized. Despite not being able to shout out the entire student body, know that should you give it your all, and genuinely put in the time and effort to do something amazing, someone out there will see you. Congratulations to Thomas, a wizard truly worth looking up too!
About the Contributor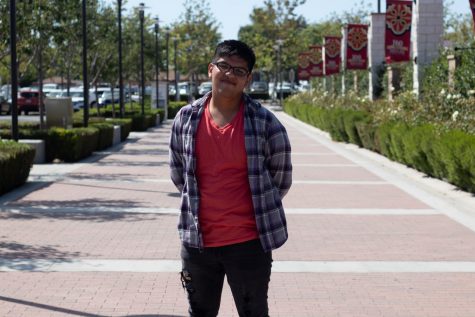 Emanuel Negrete, Editor-in-Chief
Fun Facts:

I really love the color purple
I probably write more than I speak
Ask me about my favorite gift