What's your light?
In the darkest night skies, the bright lights of the stars always shine through. 
Through these hard times, it is difficult to find happiness and joy everyday, but the smallest things can bring a smile to someone's face. MCHS students share what brings light into their darkest days.
Junior Miranda Ceja, 16, admits that during these hard times she has been feeling more negative emotions, and it has been making it more difficult to have a little bit of happiness everyday. She finds the light in being confident with her incredible make-up skills and taking pictures of her beautiful face.
"I like doing my makeup and taking cute pictures of myself and admiring how good I look because having confidence makes me feel better and a bit happier," she stated.
Ceja shared her thoughts on why happiness is important.
"It's important to be happy because then we would all be feeling some negative emotion like anger or sadness. It's okay to feel negative emotions, but it's more important to feel happiness. If you do not find joy in anything then what's the point of life? Life is about experiences of the good and bad. Without happy memories that life was not lived to the fullest," said Ceja. 
"
"It's okay to feel negative emotions, but it's more important to feel happiness.""
— Miranda Ceja
Sophomore Kimberly Lopez, 15, disclosed that during these times she has been trying to keep her positive attitude but finds it difficult. She stated that although she tries hard to keep it up she finds herself lost in deep thoughts.
"I honestly think I'm going crazy but yeah I smile, I honestly don't have anyone checking up on me except my best friend since we talk all day long, but also I like to talk to myself; it is really a self reflection for me. I just kinda feel lost in the world but nothing but time will fix that," said Lopez.
Senior Karina Romero, 16, confessed that school has been draining the happiness out of her on top of not interacting with anyone other than her family and being stuck at home. When asked if she had been smiling or felt happiness lately she responded with, "Honestly, no I haven't been smiling lately because school has me pretty stressed, but one thing that has made me smile is playing with my puppy."
Despite the circumstances she is in, a senior stuck in a pandemic and applying for college, she still finds joy in her everyday life. 
Romero stated,  "Yeah, I believe that finding something that makes you happy is needed because everyone should have some source of happiness in their life right now everything is unknown. We don't know what to expect so it is a bit scary and having something that makes you happy can calm you down and keep you away from negative thoughts."
During these dark times we must be strong; we mustn't let the darkness consume us. Let the bright light of the stars shine through the darkest of nights. 
What's your light?
View Comments (3)
About the Contributor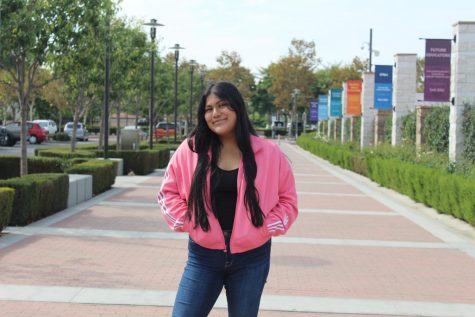 Sahira Carino, News/Opinion Editor
I love the color pink, I love to bake, and I have seven lovely pets. :) <3