Gen Z's impact on politics
Since childhood, the adults around you were always saying that you can change the world and that your voice matters. You and the rest of Generation Z were always viewed as the ones who would grow up to become innovators, the ones that would make the world a better place.
This can lead to some internal pressure that Gen Z members eventually face. They can feel that they were forced into adulthood, or can end up carrying a lot of weight on their shoulders, including the issues in their personal lives. 
Gen Z is known for slowly becoming the most educated generation so far. Being born with the internet all around them is why their minds are set differently than other generations. They have grown up with evolving technology and have used it to educate themselves. They expect diversity and thrive on finding their own different identities. This has opened their minds to so many things all around the world. 
We see many young adults on television news and or social media taking affirmative action and speaking on issues that they feel strongly about. A good example is Shiva Rajbhandari, who has a role on his local school board in Boise, Idaho, and strives for better public education in the future. Compared to other generations, Gen Z is already so influential in politics all around the world. Some of the oldest members of Gen Z are now turning 25 years old and are able to run for Congress. Others are turning 18 and are now able to vote. 
People have many different opinions on Gen Z from what we do to the way we express ourselves. Senior student Evamaria Guillen shares her thoughts on how Gen Z is more than what others perceive us to be.
"Gen Z is often underestimated because of things like Tiktok and that we spend our time doing inefficient things but I do think that we will change politics in the future," Guillen said. 
Some people see Gen Z as addicts to their phones and the internet but not all members are using social media purely for their entertainment. Many teens are highly educated on topics that adults aren't as aware of. They have used the internet as a resource to learn more about what is going on in the world as well as educate and inspire others. 
"Gen Z has grown up with Google. My Google was my parents. Gen Z has a broad access to information. They have proven what they could do with March For Our Lives," said Sal Tinajero, Santa Ana Unified School District Board of Trustees member. 
"Gen Z has that unique attribute in their DNA of living with technology from their early life. They are constantly cutting edge and hopefully they use that instrument to create a just society," said Trustee Tinajero. 
Social media amplifies the voices of young people and makes it easier for them to get their message across. This generation is more accepting and appreciates diversity. They are making decisions that are rational but also work out for everyone.
About the Contributor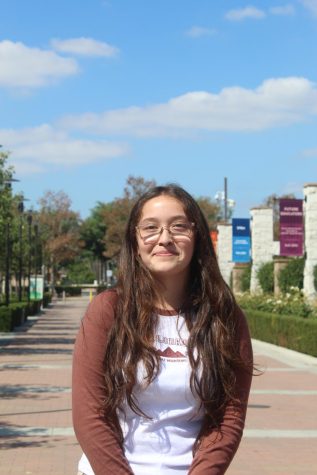 Kaitlyn Figueroa, Arts & Entertainment Editor



I listen to many genres of music but my favorite is alternative rock, my favorite color is purple, and I enjoy learning to play new instruments.