Lowriding isn't lowlife
The groovy sound of funk and blues catches your attention; you turn to look and the sound is coming out of a 1963 Impala. The driver, riding in slow, lets you take in all the details— the shiny rims, coated paint, and hydraulics which bring the car to life.
A lowrider is a customized car which is often depicted with colors and intricate designs, earning its name because of its proximity to the pavement, and purposely made to ride slowly in order to display its features.
Originating in East Los Angeles, the lowriders rose in popularity in the late 1940s from the expansion of the automotive industry after World War ll and was later reinforced because of the Chicano movement in the 1960s. During this time, Mexican Americans were tired of assimilating and decided to establish a new identity as Chicanos.
The lowriders were a big part of the movement as they served as a representative medium of their heritage: "The mobile masterpieces made by lowriders embrace art, family, and religion," as stated in the article by the National Museum of African American History and Culture.
The ever growing interest in lowriders has since evolved into lowrider car clubs. Now, there are over hundreds of car clubs in California.
"The club was created on July 14, 1971. Regular high school friends just got together because they liked cars," said Carlos, better known as "Warlock" from the Groupe Car Club.
Depending on the car clubs, some may incorporate chapters; essentially these are subdivisions in the car club that pertain to a particular city or type of vehicle.
"We have a chapter in East LA, Riverside, San Bernandino, San Diego, Phoenix… and a Bombs chapter," said Warlock.
In the car clubs, one of the activities that promote friendship, unity, and family is going out and cruising. At cruise nights, drivers will parade the cars along the streets.
"The theme is to get your car low and slow," said Groupe member Eddie.
The beauty of lowriders doesn't only pertain to the members in the car club. They host various events like toy drives, thanksgiving fundraisers, can drives, and any other affairs that help out members of the community.
"Over 20 years serving the community, helping the homeless every year, [and] feeding them warm meals. Going down to Jerome Park, where we know that the needed families need us there, and giving out toys, [and] giving out whatever we can. Giving out a free event for all the community and all those low-income families," said Nasario Bastida, president of the Uniques Car Club.
At car meets, there are vendors, music, various car clubs, raffles, and spectators. One of the biggest attractions is the hopping contests.
According to an article from WheelJoint, "In which by means of electrically operated hydraulic or pneumatic pump, the car body can be lifted on the front wheels, and each wheel suspension individually…The principle is simple: whose car jumps the highest wins."
Perhaps the most recognizable and representative part of a car is its plaque.
"The name of your club, usually cast in bronze…is shorthand for your morals, values, aesthetic taste, work ethic, willingness to sacrifice…For those in the culture, it's everything," as mentioned in the article by the Los Angeles Times.
 The plaque is displayed in the back of the seats of the cars and it identifies members of car clubs.
Salvajes Car Club member Manny Vega said, "A plaque is not given but earned through respect."
Each car club has their own constitution and rules that all members must follow. In which case, if someone is going to earn a plaque, they must be worthy of representing the family/car club.
Bastida said, "We have rules and regulations in our club where we make them (members) understand that we don't need no negativity, nothing like that, nothing but a positive outlook."
Although at car meets there are multiple car clubs, there are also solo riders. These are individuals who choose to not be members of car clubs.
Solo rider Richard Duran said, "I was born into the world of cars 30 years ago. First owning my 2000 Honda Accord and now upgrading to my 2002 Lincoln."
In essence, Duran enjoys being by himself and enjoying the experience with his family.
"I'm a third generation Chicano. When I'm out, my windows are down and I'm playing oldies."
He shares this lifestyle with his children and they look up to it.
Duran's son, Junior Huitron said, "I'm happy to see the cars hop and even happier to [one day] own a Lincoln."
A subculture of individuals within Chicanos are Pachucos, who were one of the first groups of people to ride lowriders and adopted a particular style.
According to an article from the Smithsonian Magazine the style is characterized by, "Broad-shoulders, high-waist trousers, combed hair and a silver chain dangling from a waist belt."
This attire is otherwise known as zoot suits and it led to discrimination and acts of violence towards those who wore the attire.
"The Zoot Suits became illegal and seen as un-American which led to the Zoot Riots in 1943, as well as the event of the Sleepy Lagoon Murder," as mentioned in "Subcultures and Sociology" by Grinnell College.
Now, most owners of lowriders will either wear a T-shirt or any other clothing item imprinted with their car club's name, a Dickies shirt, or their respective car club's gold pin.
"The clothing serves to distinguish ourselves between the different car clubs since many come from different areas," said Eddie.
Based on their attire and other characteristics, lowrider drivers have been associated with gangsters. However, it should be known that car clubs don't tolerate gangsters, but they will accept former gang members who no longer engage in criminal acts. The members need to serve as role models, not just for the club, but for the families that are present at the car meets.
"We take care of our own, we don't tolerate anyone making a bad reputation," said Warlock.
Former gang members have changed as they have immersed themselves in a new lifestyle with other values.
"Most of my members that have gotten into my car club, they were ex-gang members that wanted something positive, a new outlook, and what we did was give them a new opportunity," said Bastida.
Regardless, the biggest threat to lowriders are the laws established that oppress the subculture. Although some cruising ordinances have been removed, the city of Santa Ana still has an anti-cruising ban. In the efforts to remove the ban, various car clubs and supporters came to the City Council meeting on Nov. 15 to a leave a public comment.
Speaker Josue Piñeda said, "So at the time of the ordinance, in 1989, there was this public fear campaign of gangs and since then there has been the stigma that Chicano culture equals gang culture, which is far from the truth. For a city that has chosen not only to recognize, but fully support our embracing of Chicano heritage, we cannot simultaneously criminalize Chicano practices. I hope that law enforcement doesn't continue to stigmatize a subculture for the actions of a generation that are not applicable to this one."
The customizations that are made to the lowriders can be considered illegal and often draw the attention of law enforcement.
Vega, who has been pulled over by police, said, "All they see is a bald tatted-up guy."
The lowrider culture has a male-dominant presence. However, in recent years, female riders have surfaced in the lowrider culture.
"Quata" who is a female rider said, "I love classic cars; all women love to drive something beautiful. I go to car meets every week to hang out with my gente."
Women also appreciate the hard work put into creating the car, enjoy the lifestyle, and acknowledge the discrimination.
"Lowriding isn't a crime, we are hard-working people, and cruising is no longer frowned upon. Lowriding isn't lowlife," said Quata.
The lowrider culture has also traveled geographically to Texas and has established a lasting impact on New Mexico.
"In 2018, the city council officially declared Española as a 'cruise-friendly municipality' and formally adopted the town's long-standing nickname, Lowrider Capital of the World," as mentioned in an article by Road & Track.
Nevertheless, the expansion of the culture has gone as far as Japan.
From the New York Times, Junichi Shimodaira said, "All these imported magazines and Japanese journalists abroad gradually brought the concept of lowriders to Japan. From there, the culture blossomed."
The diversity that is carried through lowriders is visible as other ethnicities and races have also become part of the culture.
In the article by NMAAHC, "Though lowriders were first crafted in barrios across the Southwest and southern California as unique symbols of personalized creativity and Latino cultural identity, African American car enthusiasts began developing lowriders of their own."
Not to mention, music genres like Funk and Blues which are known to originate from African American communities are heavily embedded in the lowrider culture. One of the greatest hits that gave the culture popularity was the song Low rider by WAR.
"Based on our interest, we share ideas, fix up our car, and get recognition. Ultimately, we are keeping old cars alive," said Groupe member Steve Lara.
Being in the lowrider culture is an outlet for many, it gives them an opportunity to discover new people, form a connection, and express their cultural identity in a unique way. The ever growing culture welcomes diverse groups of people. Not to mention, members of the culture continue to push against discriminatory laws or stereotypes.
As Piñeda said, "These events (car meets) usually take place on days that are mindful of traffic where families can come out to watch a symphony of beautiful classic cars driving through the streets."
About the Contributor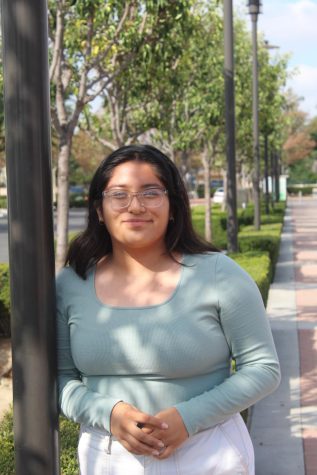 Esmeralda Coeto-Medina, Community News Editor
My favorite animal is a polar bear, I love strawberries, and my favorite subject is biology.