Wizards' Wardrobe: MCHS hosts first thrift store event
Recycling old clothes is no new idea; when a shirt becomes too small you can donate it, give it to a younger family member, or repurpose it as something else. The process of selling used clothes has been on the rise in the last couple of years. Recently, MCHS had its very first Thrift Shop event. Students were encouraged to donate their used clothes to be sold. 
The Thrift Shop event was announced a week prior and students were offered a discount if they donated at least five items to the event. Articles of clothing from shirts, pants, shoes, and even jewelry were accepted to the shop. There was a large selection of clothing ranging from all sizes and aesthetics. The clothes were also affordable. The most expensive items you could purchase were shoes for ten dollars.
The event was planned and headlined by ASB junior Yara Elsayed.
 "Other bigger schools were pulling it off and I wanted to see if we could reach out to our own smaller community and see if we could be successful," Elsayed said.
Although many seniors were absent due to their exit interviews being held the same day, many other underclassmen filled the gaps and there was a huge turnout. Recently elected ASB president Angelina "GiGi" Patino was in attendance and was proud of the event's popularity.
"I was hoping we were gonna have this huge turnout…Yara coordinated all of it and she did an amazing job. This is a reflection of her work and I'm really proud of her," Patino said.
Thanks to the large amount of donations from students, there was an incredible range of clothing and items available for purchase. Shirts, shoes, and pants in all kinds of sizes, and jewelry, makeup, and handbags were some of the items available. ASB sophomore Jaelyn Tran was working at the event and was able to see many of the items on the sales floor.
"I think there's a big selection; I saw a lot of clothes, and there were even kids clothes around here," said Tran.
The event has garnered lots of positive responses from the students who were in attendance. ASB gathered a lot of money from this event, and they could put it towards creating even more events that students will enjoy. Sophomore Frida Melchor was in attendance and enjoyed her time at the event.
"It's lowkey kind of cool, they [ASB] ate this up. It'd be pretty cool and fun if they held this again next year," said Melchor.
As for the clothes and items that weren't sold at this event, ASB has announced that many of the items will be donated to other second hand stores or may be used in another thrift store event in the future.
About the Contributor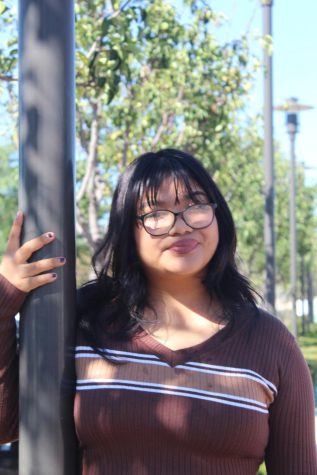 Xochilt Chamu, Staff Writer



I love reality tv, I have a black cat, and I love horror movies.