Symposium showcase 2023
This month, sophomore students showed off presentations about the patterns in murders, the creation of serial killers, parent child relationships, domestic violence, and more.
These projects are a part of symposium, an annual tradition for sophomores, and can take weeks to complete.
Symposium is an Advancement Via Individual Determination (AVID) passion project sophomores do that aims to challenge students and improve their presentation, communication, and collaboration skills. 
Symposium was created at Mendez Fundamental Intermediate School in 2013 by Sharon Romeo, Maria Padilla, Cheryl Peat, and Liz Cabrera. Romeo, former SAUSD educator, was one of the many contributors that created symposium. She saw that the community was not taking the student population seriously and underestimated them.
Romeo wanted a way for students to prove those people wrong, and with symposium, they did. The steps of symposium were formed by Romeo's way of teaching when she taught students. Over the years, those steps evolved. She wanted the main purpose to allow people to see the vast interest of students and the complexity of their intelligence. 
"It is designed to create very rich exploration and presentation, both orally and visually," Romeo said.
Overall, Romeo, Padilla, Peat, and Cabrera wanted students to believe in themselves and their capabilities.
For this project, students have to choose a topic they are passionate about, focus on a certain problem, create an essential question that they revolve their research around and answer in their presentation. While researching, students must consider the other sides of their topic in order to fully grasp all the information they can.
Students  also have to produce a creative piece. The creative piece is different for everyone because it is unique to each topic. Some students made a theme for their presentation by trying to connect their board to their topic.
Some examples are, making the board look like a crime scene, printing out DNA drawings, drawing out a keyboard, or some decided to stick with a single color. Others painted canvases, created models, or created games for their viewers to interact with. Throughout the process, students were able to get help from their teacher or their designated tutor.
AVID teacher, Amy Holte introduced symposium to Middle College High School. 
She came to MCHS from Mendez and said that her previous students remembered symposium as one of the most difficult projects they ever had to complete. 
It was also one of their most meaningful projects.
When she got to Middle College, Mrs. Holte wanted, "A passion project for students to showcase their interests and creativity in a meaningful way."  
Now, symposium is an intensive project sophomores complete and present during their second semester. 
On May 3, sophomores showcased their presentations full of research, data, and art to their community. The event took place at Santa Ana College in the Johnson Center. Parents, teachers, district workers, and more came to see everyone's presentations. Awards were given for those who were very creative, those who had more than enough research, and those who stood out in AVID.
The event allowed those who came and other students to learn more about their community as well as their classmates' passions. MCHS sophomore Bianca Garcia was inspired by symposium and its purpose.
"Symposium was a great opportunity to learn more about the world I live in," Garcia said.
About the Contributor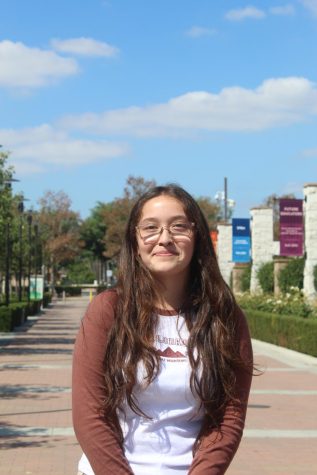 Kaitlyn Figueroa, Arts & Entertainment Editor



I listen to many genres of music but my favorite is alternative rock, my favorite color is purple, and I enjoy learning to play new instruments.