How does MCHS get down on Super Bowl Sunday?
Touchdown, food, music, oh my!
For many, Super Bowl Sunday is the first opportunity for families to reconvene and party since Christmas. Super Bowl Sunday has become synonymous with family traditions and football. Some of these traditions may include throwing a party, playing games, watching commercials, or getting together to watch the Pepsi halftime show. 
Freshman Tony Vu shared his family traditions on Super Bowl Sunday. 
"All my family usually comes together and we all watch the game together in the living room while eating pizza, wings, and chips. We also bet on who we think is going to win the game while wearing our favorite team jerseys. Depending on if my family members are happy with the outcome of the game, we may decide to have a backyard football game to burn off the calories of the food," said Vu. 
These are all very common activities for Super Bowl Sunday as it is a day meant for family and football. It is a day where everyone can get together for some friendly competition, eat some good food, and watch Shakira and Jennifer Lopez perform during the halftime show. These are a couple of All American traditions that make the day significantly more memorable
Sophomore Joel Estrada reminisces about his previous Super Bowl memories and traditions.
"My grandparents usually host a family barbecue the day of and we all just hang out and watch the football game in the living room. We usually just end up screaming at the television even if our favorite teams aren't playing in the games," said Estrada. 
America's game has this effect on people as it allows families to come together and share a meal. It allows people to enjoy the game of football even if they aren't regular fans of football. This has become one of the most viewed sporting events in the world because of its ability to bring families together. 
Senior Karen Alegria shared her favorite Super Bowl memory.
"My entire family was over the year of the Patriots versus Falcons game and we were just about to change the channel when the Patriots made the greatest comeback and somehow won the game after being down 28-3. My entire family went crazy as they are all sports fans who just enjoyed watching the game," said Alegria.
About the Contributor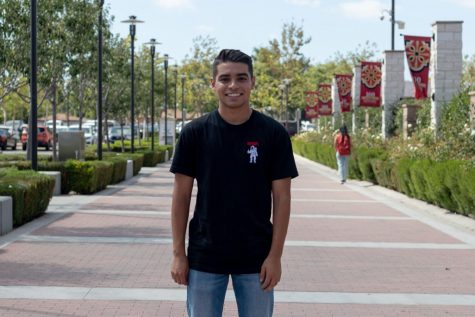 Alex Cervantes, Editor-in-Chief
Fun Facts:

I didn't receive a score on the SAT because I messed up my name.
I've worked with dangerous chemicals making solutions.
Fun fact...