Teachers affected by new COVID policies
As I started my senior year, I quickly realized that there were many different changes. We were now required to have a mask on at all times, and plexiglass now created borders between my classmates and I. We were no longer allowed to collaborate with our fellow classmates in group tables, and every piece of homework and classwork was all on Canvas. With these new restrictions in place, some teachers had to change their teaching methods as well.
Most teachers at Middle College High School tend to be very hands-on with their students, since we have a smaller school population than other high schools. However, with the new restrictions the district has implemented, there has been many new changes to their hands-on methods.
ASB advisor Rafael Ramos has expressed how a year away from in person class has created a set back for ASB.
"Because we were out of the classroom for a year and a half we forgot there are things we had to do… such as when advertising spirit week, we used to email the teacher so they could be on top of it," he said.
Ramos also said that the restrictions have stopped them from carrying out all of their regular activities which has resulted in less work to be assigned to students.
¨Because we are limited on what we can do, that impacts the amount of work I assign students," said Ramos.
Chemistry and AVID teacher Micah You also shared his thoughts about the new restrictions following COVID.
¨One big thing for me is masks; I don't mind wearing my mask, however I can't hear students well, so I try to use the mic. But then I have to pass the mic around and we constantly have students dropping the mic. (pun intended)," he said.
Although wearing masks has made it difficult for students to speak up in group settings, You has also expressed that masks also provide an extra layer of protection when performing experiments. To him, this is an added bonus to the coats, goggles and gloves students are already required to wear.
¨In the end, (if) every and any precaution means we stay in person, I´ll take it, ¨ said You.
Senior Ishmael Perez, 17 also shared his thoughts on how teachers are adjusting to these new restrictions.
¨The main things I noticed are mandatory masks, the plexiglass on our desks and weekly testing," Perez said.
Perez also expressed how coming back to school despite the COVID restrictions has been much easier than school online.
¨Although online school felt easier, I wasn't really paying attention. But now in person it is easier to grasp information. And since everything is on Canvas, it makes it easier to keep up,¨ said Perez.
The transition from online to in-person may have been difficult and new COVID restrictions may seem overwhelming. However, our amazing staff and teachers at Middle College High School have done a wonderful job in keeping us safe and continuing to prepare us for a new chapter in our lives.
View Comments (1)
About the Writer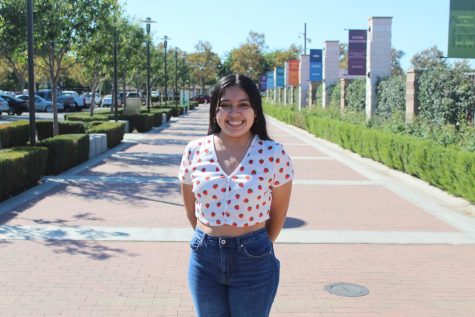 Arlene Rufino, Staff Writer



I'm the middle child of 5 kids, I've been featured on GMA, and I love baking.