COVID-19 rates getting affected as schools re-open
It was a Monday morning. On May 17, many students were opening up their computers to start class when they received an email. After an entire year of online instruction, the Santa Ana Unified School District opened up its doors for in-person instruction beginning August 17, despite the pandemic.
As schools begin to reopen, COVID-19 cases keep having drastic changes. According to the OC Health Care Agency, this first month of school had in total around 871 cases. This included students, teachers, and staff. The highest number of cases reported were within the first week that most schools reopened. That week had 338 cases. This data only applies to schools within Orange County.
The Santa Ana Unified School District has set some guidelines in order to continue the in-person instruction. The guidelines include both the FACEMASK GUIDELINE and the new COVID-19 testing policy.
Because of this many were excited to begin the new school year, including principal Damon Voight.
"Hallelujah! Let's go back to school," said Voight.
As mentioned, the Santa Ana Unified School District has implemented a new COVID-19 testing policy. Testing will start at Middle College High School starting Thursday, Oct. 7. Voight believes it will help prevent the spread.
"We are hoping that we find someone who may be asymptomatic early so they don't spread it. Then, we have a less chance of other students having to miss time because of COVID infections," Voight said.
Sophomore Alfredo Ceja also believes this policy will help maintain students' safety while at school.
"The new Covid-19 testing policy will help secure students as a negative result will have to be provided in order to attend class on campus," said Ceja.
Voight also states how the different precautions being taken are helping maintain a low rate of cases within MCHS.
"In the long run we'll actually lower our rates as we put in the safety measures. Here at school we've had very few people that have had COVID during school. Especially because we've worn our masks, we have our shields, we follow the protocol, we have air filters, and hand washing stations," Voight said.
As a small school, we can help reduce the spread of COVID-19 within our community by continuing to follow the protocols.
"We can help by continuing to wash our hands, keeping our masks on while in classrooms, and when we feel sick, we stay home, call the school, and then we get tested," said Voight.
About the Contributor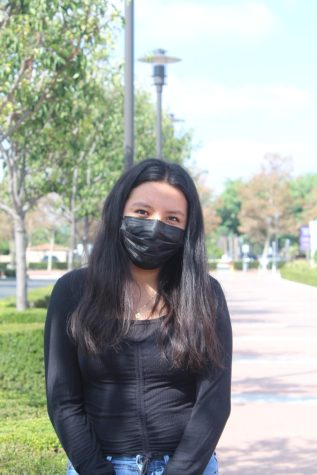 Guadalupe Vargas-Gomez, News Editor



Listening to music is my favorite form of escapism, I love butterflies, and reading.