The importance of LGBTQ representation to queer youth
Hang on for a minute...we're trying to find some more stories you might like.
In recent times, there has been an influx of LGBTQ representation in media. From shows like "Orange is the New Black," movies like "Love, Simon," to cartoons like "Adventure Time," representation of all the letters is more abundant than ever, and all for good reason. Representation like this is so essential in our day and age for queer youth to be exposed to.
Growing up, there were not very many characters like myself, nor like anyone else within the LGBTQ community, especially here in the US. The few characters that were around, like a public lesbian couple in "Sailor Moon," had their relationship simply erased in the west by being labeled as cousins. Our representation, if it is even worth calling it that, came in the form of the token gay best friend, eye candy lesbians, the cheating bisexual, or the prostitute transgender. Straight was always shown to be the norm or default. Naturally, this was harmful for teens questioning their sexuality. Were we nothing but simply the punchline to a joke?
There is nothing wrong with us. We aren't "wrong," or "defective" like many of us were and are still led to believe, yet the media made us feel like we were, and some of us, including myself, believed it. Teenagers seek validation from others, and if we do not receive it, insecurity and self-doubt ensue. One could say that we are weak for needing the media to help us accept ourselves, but when everything—family, friends, society, even ourselves—are against us, sometimes it's all we have.
It isn't simply about having a gay character in a show or movie, it is about presenting the community in a positive way. We need to see characters whose personality isn't just "the gay one." Instead, these characters need to portrayed as who they are, and who they are just so happens to be gay.
Many shows are now opting to not only have LGBT characters, but have them come out on screen. For example, "Supergirl" had a scene where a character came out as lesbian, explaining the love she had felt for girls in the past and for a woman in the present. Another example is in "Bojack Horseman," where a character came out as asexual and gave his reasons as to why he does not experience romantic attraction. This not only provides representation but can aide those who are questioning better understand how they feel.
In my case, representation has affected and aided in the acceptance of my sexuality. In my household, it was either straight or nothing. With a family originating from a town in the middle of nowhere with less than 7,000 people in it, anything related to the LGBT community never even touched anyone's lips. As a result, I was deeply confused in my youth about who I was. I didn't even know liking the same gender was an actual thing until I started consuming media. What made me have my "aha!" moment was a show called "Revolutionary Girl Utena," where the female lead's love interest was another female. Up until this point, I had thought I was insane, or if I was the only one, yet, what I had so often tried to hide was portrayed so beautifully out in pure daylight. Granted, it was not the sole reason for me accepting my own sexuality, but it certainly pushed me towards it.
Junior Valeria Velarde believes that this representation is important to us queer youth. "Now that there is representation, people can now finally feel and act like themselves. They don't have to be restricted by social views because now those social views are more accepting," she said. Just like many of us who are LGBT, she herself faced difficulties in accepting herself, and states, "When I was younger, I was taught that it was wrong [to like girls]. But now that there's more representation for it, now that more people are more accepting and friendly about it, I finally feel comfortable talking about it, like having a girlfriend, and holding hands, and just being ourselves in public." Velarde is one of the many examples of how representation positively affects queer youth.
Teachers here on campus also agree that representation is essential. "People are more out than they ever used to be," said Mrs. Thomas. "They see it, and I hope it makes them more comfortable with themselves." Another teacher, Ms. Groff, believes that it is important to see this kind of positive representation as it "helps them accept themselves and see that there isn't anything wrong with it."
Despite all the accomplishments, we still have a long way to go as a community. In 2017, GLAAD reported that out of all the LGBTQ characters in television and films, white gay men dominate. Bisexuals, transgenders, lesbians, and asexuals, especially those in racial minority groups, are still severely underrepresented. But, as Velarde said, "small steps, for now."
There needs to be more LGBT+ representation in more cartoon shows. Kids should know the existence of gay people living in this society. pic.twitter.com/2c04wtlPhz

— The Gay Robot 🤖 (@iGayRobot) July 20, 2017
About the Contributors
Maria Peralta, Features Editor
Fun Facts:

I love video games! My favorite is Earthbound.
I have a 15-year-old chihuahua named Dulce.
My favorite band is System of a Down.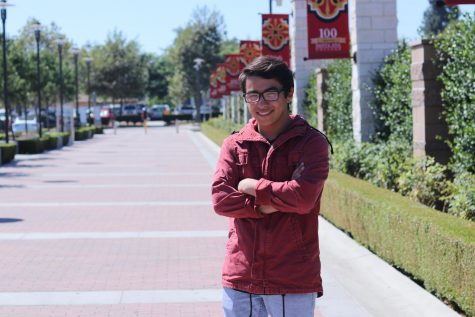 Jessie Ortiz, Multimedia Editor
Fun Facts:

Aspiring graphic designer.
1 -minute videos take about 1-2 hours to edit.
I met Evan on the first day of 6th grade.