How Poverty affects Students
Hang on for a minute...we're trying to find some more stories you might like.
Walk through the streets of Santa Ana and you can see how our buildings, streets, and homes are cracked, old, and run down. That is the sad reality many residents, especially students, of Santa Ana live in. But how does this impact students? The poverty we see every day in our community can be applied to our schools and the education we receive. Although this may not seem like a huge deal to some at first, it gradually becomes a deciding factor in what we have to experience for more than 12 years of our education.
School poverty is highly common in America. In fact, in a graph published by The Washington Post, it shows how every two out of five states have 50 percent or more of public school students that are low-income. To make this statistic even scarier, every state has 27 percent or more low-income students in public schools. In "7 Ways Poverty Affects Education", an article by MoneyWise, the consequences can be applied to many local students in Santa Ana. The issues are: "disadvantages due to parental lifestyles, lack of poverty-specific learning programs, reduced verbal and reasoning skills, impaired development due to stress, learned helplessness, bad school conditions, and being unaware of the possibilities." It's easy to see how all of these consequences affect the way many students receive their education and how their future will shape as a result of poverty.
Senior Alan Meza has a strong belief that many students are affected because of poverty. It not only applies to their household, but also to their academic success. Meza said, "Not a lot of students get the hands-on education some charter or private schools provide." Another topic he touched on is how many people who have a better household income can afford to help their students with school. He said, "Most upper class people have the means to send their kids to get help with tests like the SAT and ACT. Lower class parents have to just hope for the best with their kids." Students dealing with poverty is a big issue that should be dealt with, in his opinion. It affects their mental health and how they perform in school. "Some students have to take extra jobs to help out their families, and it limits their time to study for tests and do homework and to even attend class sometimes."
Santa Ana is known to have many people living in poverty. In fact, 17.2 percent of its residents live in poverty, which is higher than the national average of 14 percent. That's approximately 56,000 residents out of the 330,000 residents living in Santa Ana. The average household income of Orange County is about $101,000 compared to Santa Ana's $65,000. It's easy to see the huge gap in incomes and what many students sometimes struggle with at home.
Rodolfo Ramos, a junior, also believes that poverty is an issue that affects students. According to him, "In a situation where students are poor, what I've seen is that they either try really hard in school to get into a good college or they just focus on working and forget about school." He also said, "If students live in a poverty stricken area, the school these students may attend may not be up to par with some school others may go to.
During high school, many students start to think about their future college and where they will go after they graduate. This is the part where things get complicated. For some, their dream college may be out-of-state, which includes an out-of-state tuition fee. For others, it may be that the college itself is far away in an expensive area to live in. Arguably the most important factor that determines a role in students choosing where to go is the price of yearly attendance. For example, the average annual cost to go to the University of California Irvine (UCI) in 2015-2016 was roughly $32,000. For out-of-state students, the average annual cost was about $57,000. While UCI may be the dream school for some, many can't attend because of the cost. However, those that do attend are left with student debt that may take them over ten years to pay off. Middle College High School graduate Erick Ocampo plans on attending California State University Fullerton but stayed at Santa Ana College because it would be cheaper for him. "I stayed at Santa Ana College because it would be way cheaper and wiser to finish my AA in business at SAC, then transfer." Again, the conflicting choices of cost or education comes into play. Ocampo and millions of other students worldwide struggle to make that difficult choice.
Dr. Rebecca Vásquez Ortiz, a college professor at Santa Ana College with a PhD in psychology, had several important things to say about the topic. Dr. Ortiz connects the way students dealing with poverty affects their mental health. "Students who are from poorer areas experience more stress. They have less access to medical attention [and] psychological services, so poor students have higher risks associated with illness and stress and anxiety." She also mentioned how education isn't the same for lower-income students as opposed to higher-income students. "Even though students have access to education, the quality of that education is oftentimes dependent on the funding that schools get and the quality of their teachers, and students that come from areas where there's not enough funding, whether that's from their families or from their school districts, don't have the same educational opportunities as students who come from more affluent places." Dr. Ortiz also believes there should be a school reform to cope with this problem. "There's especially an issue when you have teachers who come into communities that they themselves have not experienced poverty, so there needs to be a re-education of instructors in terms of understanding the different needs of poor students. For example, if a teacher or school system asks students to contribute money or objects, it's a clear misunderstanding of the poverty that many students face."
About the Contributor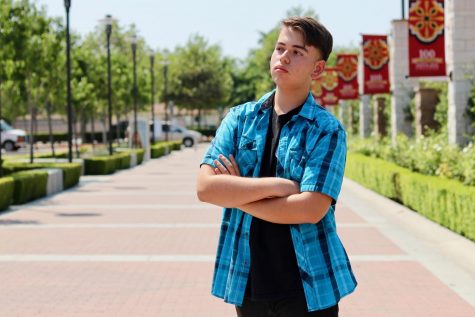 Franco Chavez, Staff Writer
Fun Facts:

I'm an astronomer.
I'm a journalist.
I'm Peruvian <3