Deck the halls without emptying your pockets with these homemade holiday decorations
Hang on for a minute...we're trying to find some more stories you might like.
The holiday season is here, and for many of us, it has become a tradition to decorate our homes. However, decorations are expensive, so here are some simple, rustic homemade decorations. These rustic decors consist of using natural things like tree branches and pine cones. Use ornaments that you find in your storage or you can find some at any local dollar store. Fairy lights can be used to add a twinkle to your home during the cold and gloomy winter season and are less expensive compared to the traditional Christmas lights. Gold spray paint can be found at any store for less than five dollars, yet it adds a nice metallic touch. Remember, the most important thing is to enjoy decorating your home with family and friends without emptying your pockets.
Christmas Branch
No Christmas tree? No problem, create your own Christmas branch!
Things you'll need:
Long branches

Any long vase or a pot with soil

Pine cones

Gold spray paint

Ornaments
Directions:
First, pick any long branch you can find during a walk through the neighborhood and spray paint it gold or any other metallic color of your liking. Then, put the branch inside a vase with pine cones to keep the branch standing straight.You can also use a pot to with soil to stick the branch in it and keep it upright. Next, you will want to start wrapping the fairy lights on the entire tree branch. Fairy lights are made of coil, which allows the lights to be tightly wrapped, and conveniently, they lessen the electricity used since they are battery powered. Finally, adorn your branch with a few ornaments. Don't add too many or heavy ornaments because it can cause the branch to snap.
Branch with Ornaments
This decoration will add festivity to any empty wall in your home.
Things you'll need:
A small stick (no longer than 2 feet)

Metallic spray paint

Small pines cones

Yarn or polyester string

Ornaments
Directions:
Spray paint your stick with any metallic color of your liking, and after it dries, hang it horizontally on a wall by putting it on pins or nails. Next, spray paint as many pine cones as you would like to hang on your branch. Tie a string to the bottom of each pine cone and ornaments, so they can be tied to the branch. Leave space between each one and hang them on the branch at different levels, so one ornament looks higher than the other.
About the Contributor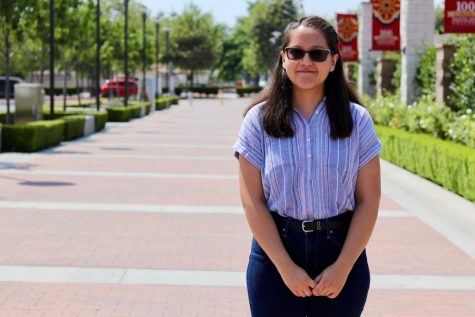 Kasandra Tapia, Co-Editor-in-Chief
Fun Facts:

I have an obsession with shoes.
I'm a vegan.
I have ruby ball cacti named Nora and Sandy.