Death of senior year: A Eulogy from the Class of 2021
"I'm numb." – Senior Andres Vergara
1,980 school days. You woke up every day at 7:00 a.m. Then, Senior Year. 
You knew what it would be like. You watched groups of seniors before you do it. 
You would apply to college and scholarships with your friends at your side to support you. Your hard work would pay off, and you would be celebrating. Winter Formal. Opening up acceptance letters. Prom. Grad Night. Santa Ana College graduation. MCHS graduation.  
But none of it happened. 
As a part of the Class of 2021, we have personally experienced the devastation of having our last year of high school taken away from us. 
We understand that there are more important things happening that are prohibiting us from being able to experience our last year, but our feelings about the situation shouldn't be undermined. The grief for the tragedies of the past year and our grief for what we have lost are two things that can coexist.
We have missed out on a major milestone of our adolescence and lost out on nearly half of our high school experience due to the pandemic. Certain social skills are supposed to develop during high school so that we learn to maneuver friendships and deal with real-life problems. An important aspect of learning said social skills is social interaction which has become null during our year online.
Senior year is a particularly important marker of our lives because it is the close of a chapter as we transition from kids to adults. We are going to be expected to know how to navigate through life when the last thing we knew before going online was how to be kids. 
This situation has forced many of us to grow up quickly as some have gotten jobs, become babysitters, and received an increase in responsibilities. This among other things have also been factors in putting a strain on friendships.
Senior Jaquelyn Robledo stated, "We're all working, and we all have different schedules which makes it difficult to find time when everyone is free to just talk."
Despite being prepared for what may come, the disappointment of not being able to experience our senior year in all its glory is still heartbreaking. 
Some fellow seniors have agreed to sit down and talk with us about the collective loss we feel as a way to "mourn" what could have been.
The event most seniors were looking forward to was Grad Night at Disneyland. Being at a high school in Orange County comes with the perk of getting one night of the park closed to the general public while hanging out with friends. Everyone we spoke to was most disappointed that it was canceled, but not many were surprised.
Robledo said, "I was looking forward to grad night just because it seems so fun to hang out with your friends, especially late at night and going on rides. I've been looking forward to that since my freshman year. I think that's the only event I cried about when I realized it was going to get canceled."
Grad Night is something that we grow up hearing about; we're told it's the happiest moment of our high school career.
Robledo stated, "I always knew about grad night, but seeing my brother go and have so much fun and being out late. It's Disneyland, it's fun being with your friends."
Despite knowing that most, if not all, of the senior activities, would be canceled, some students have felt that they're given false hope by faculty members.
Senior Cristina Alvizo brings up the fact that she doesn't feel like the staff are listening. 
"They don't listen when we propose ideas, like what about the senior picnic. It's outdoors. We're just doing all this for nothing. Nobody is putting in the effort for us. People just don't care anymore; they don't care that we lost a whole year. It's not a battle of who had it worse, but it just sucks to not see anyone care."
She proposed the idea of having a voluntary field graduation that would only involve the seniors, Mr. Voight and Mrs. Espinosa. The event could be live-streamed for family and have students spaced apart to follow CDC regulations. This idea was quickly shot down due to concerns that it would not be fair for other schools, however, some schools in Orange County have approved some student-athletes to return to school for conditioning. 
"Why can't we get a field? We can even use Mendez's field and put chairs six feet apart, following all CDC guidelines. Their excuse is that it's not fair for everybody else in the district, and they have a point but at the same time, when has graduation ever been fair for Middle College. Every high school gets the bowl and gets to invite as many family members as they want, and we get nothing," stated Alvizo. "I wanted to take pictures because I wanted the memories. I know that some of us might drift apart, but I wanted to have something to show that when I was in high school, these were the people I would go to for anything."
Other seniors felt the same way about graduation.
"Being up there and walking up to get my diploma is something I want to experience. We have the privilege of being a really small school to be able to sit down and have a big field and have everyone fit even if it's just Voight and Espinosa there," said Robledo. "We don't really get to celebrate. We had some of the worst years and we don't get to celebrate. We get nothing." 
Mr. Voight responded to the criticism about how graduation is being handled: "I am very saddened by these quotes. First, we love the ideas that students came up with unfortunately they are not feasible at this time. The main reason is the district has mandated at this time because of county COVID restrictions, all SAUSD high schools will plan to hold a drive-through graduation. We can not at this time have an in-person graduation on any sports field. So as much as we may want to entertain the idea of an on-field graduation, it is not allowed at this time. We have tried to offset the disappointments of this year for our seniors by paying for each senior to receive a free senior shirt (designed by the senior class), free cap and gowns, and free yearbooks. We will continue to take ideas from students but remember just because we can't make an idea happen at this time, does not mean we are not listening or supporting our seniors."
Many other things have changed this past year. For many people, March 13, 2020, was the last time they saw their friends. Some people have seen a decrease in communication with their friends and have consequently had their friendships change. 
"I don't talk to anyone. I talk to the freshman I'm in charge of more than I talk to my friends," Robledo said. "I'm not great at texting; it gives me a lot of anxiety. People usually ask me 'How are your friends? Are you still talking to them' and it's like I don't, and it sucks because we went from hanging out every single day for every period and trying to get to classes together to an immediate stop and just seeing the profile picture or name on Zoom."
Being isolated from the people who you were used to spending at least five days of the week with has affected many students especially because these are people who you have gotten to know really well during the past few years.
Senior Jacob Cortez said, "For someone like me usually I don't really talk a whole lot. I can start a conversation but I don't usually choose to. Where I'm going with that is that people say those who are introverted are enjoying this stuff right now, but being isolated from everything is hitting me hard."
Most students understand the difficult situation we are in however they just want to know the adults care.
Alvizo stated, "They don't know what to do and they're asking us what we want but we just want effort."
View Comments (1)
About the Contributor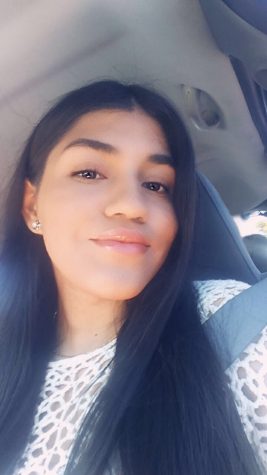 Evelyn Gudino, Opinion Editor
I learned all the countries of the world over the first months of quarantine, I love watching/reading about crimes and my comfort show is "Supernatural."