Orange County fire season: here's what the residents need to know
Here in California, mainly in Northern California, there has been an increase in wildfires. The increase of these wildfires are caused by multiple factors created by nature, climate change, and in some cases human acts. Like the people in Northern California, those residing in Orange County should be informed about the wildfires and how communities around those risky areas can become more aware of this upcoming fire season.
According to the National Park Service, "Nearly 85% wildland fires in the United States are caused by humans." Most wildfires occur due to the unintentional and negligent actions people commit and in very rare instances they are intentionally started. Other than human acts, climate/temperature change can alter an environment thus making it more prone to wildfires. A spike in the temperature, a gust of wind, or deduction in soil moisture, can all drastically affect the nearby environment with the presence of a fire. Dead trees and shrubs, along with high amounts of brush can potentially be used as fuel for the fires.
When asked about the recent weather in Orange County, senior Alan Marquez observed this.
"Yeah, the temperature has been increasing unexpectedly, like on Wednesday (Sept. 22) it was extremely hot (90 degrees Fahrenheit)," said Marquez.  
Climate and temperature change isn't the only factor when it comes to wildfires in Orange County. Many of the wildfires we see tend to start within a Wildland Urban Interface (WUI), an area of undeveloped land with high amounts of brush, dead trees and grass. Although most residents in Orange County don't live around any WUI areas, there's still a possibility of wildfires. Knowing and understanding the causes/factors of wildfires is important for communities nearby these areas as these fires can cause undesired effects to a person's life.
Senior Sofia Chavez says these fires can affect us here in Orange County.
"Yeah, I mean the area right by my house, Silverado Canyon. I'm in an optional evacuation zone. Often my school used to get shut down because of the fires. So, yeah people are getting evacuated, houses are burning down, it's affecting anyone who's in that area," said Chavez.
Gary Blevins, Assistant Fire Marshal for Anaheim Fire & Rescue, also had this to say.
"Wildfires present the most risk if your home falls within a Wildland Urban Interface (WUI). Many housing tracks fall adjacent to these, often in hills or along hillsides. In Anaheim, this is our east end of the city, known as Anaheim Hills. The State identifies these areas as varying levels of Fire Hazard Severity Zones," said Blevins.
According to the Insurance Information Institute, "As of 2019, California is ranked 1 in top 10 states at high to extreme wildfire risk." They also go on to mention that, "As of 2020, California is ranked 1 in number of fires and number of acres burned with 10,431 fires and 4,092,151 acres burned." It's important that residents don't ignore the facts and still be ignorant of the dangers of fires. Southern California tends to experience what are called the Santa Ana winds during the late summer and early fall periods after a long period without rain. 
Assistant Marshal Blevins was asked about the concerning topic, this is what he had to say.
"Santa Ana winds are always a concern this time of year… These winds are hot and dry and will drop relative humidity levels below 10%. This creates easily ignitable materials in the WUIs. These are also called Red Flag Warning Days and most jurisdictions will restrict many open fire and spark creating activities during these periods to prevent fires," said Blevins.

Some of the wildfires are not caused directly by us through an unattended flame or spark that went out of control, but they are caused by the effects of our inactions. Take for instance, the developing drying conditions in California that increase the risk of wildfires. Conditions like these are created by our contribution to climate change. Climate change is a factor to the environments in which wildfires thrive, using dead shrubs and trees as fuel, burning acres of land and potentially putting people at risk. 
Chavez gives a few words about the issue of climate change concerning the effects it has on wildfires..
"Put pressure on politicians. Put pressure on corporations. Also try to reduce your carbon footprint as much as possible," said Chavez
Although wildfires happen predominantly throughout the hot summer months, this should still be a concern for people year-round. No one can predict such an event so being prepared with information about this topic is crucial, especially if you live around those Fire Hazard Severity Zones.
When discussing what precautions residents of Orange County should take during the fire season, this was Assistant Marshal Belvins' response.
"Along with having ample emergency kits, evacuation kits and plans and ample shelter-in-place supplies, we promote following Red Flag Warning Day restrictions. We also regulate clearance zones around homes to remove debris, leaves and dead grass and ways to harden homes to reduce ignition when fire or embers reach a property," said Blevins. 
Leave a Comment
About the Contributor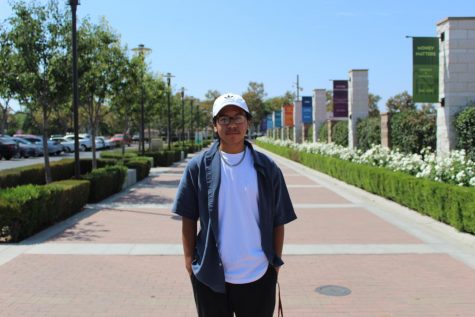 Omar Reyes, Staff Writer
I have rolled my ankle 3 times, I have 2 brothers, and I love Swedish Fish.