Sexual assault and gaslighting: Students weigh in on K-pop's latest scandals
Scandals like sexual assault in the Korean music industry affect multiple idols and their fanbases— leading some people to turn away from the genre completely.
It's also causing the entertainment companies to cut ties with K-pop stars.
Since Jan. 28, 2019, up until the present time, the removal of Korean celebrities from their companies has increased. Both fans who continue to support the idol and the idol themselves receive much hate and negative comments, even when a scandal is proven false.
K-pop boy group NCT's Chinese subunit, WayV, had an incident with their 24-year-old member, Lucas, who was accused by multiple women of sexual assault, leeching off of their money, and gaslighting. 
Since the statements made haven't been confirmed or denied, fans have mixed feelings about the situation.
Jaylene Bahena, a Middle College High School (MCHS) student who has been a K-pop fan since middle school, mentions her impression of Lucas changed after hearing of the scandal.
"Yes it changed, honestly I don't support him anymore because this is a really serious topic and he shouldn't be babied. He is a grown man and should know better. Of course the accusations were not proven false nor true but I'd rather not support him than be supporting a possible sexual assaulter," Bahena said.
Bahena also mentions how her perspective on the K-pop industry has changed since she learned about both this scandal and related scandals.
"My perspective has changed. Honestly there have been similar scandals like Lucas (SVT, Mingyu, EXO, Kris Wu, etc.) These scandals really made me realize that we don't know these idols personally, and we shouldn't just go off of what we see on camera because they can be a different person," Bahena said.
Another popular scandal in the K-pop industry regards former actor and EXO member, Kris Wu. 
Guadalupe Santos, 17, a general K-pop listener since 2019, mentions the impact on her impression of EXO ex-member, Kris Wu, after learning about the scandal he was involved in.
"The Kris Wu scandal impacted my impression of the idol because the fact that he took advantage of minors let me know that he uses power in order to take advantage of people," Santos said. 
Another incident that rocked the group was the relationship scandals that involved members Chen and Chanyeol.
Chanyeol was accused of cheating on his alleged girlfriend, who happened to be an obsessive fan. However, Chen's situation was just fans who were angered by the sudden marriage and pregnancy announcement.
Although Chen apologized on social media, Chanyeol's scandal ended up being a rumor made up by a fan.
Many scandals in the industry have to do with dating. 
An example of this would be when soloist Hyuna and ex-Pentagon member, Dawn were suspended from CUBE Entertainment for hiding their romantic relationship. 
Even though many scandals involve relationship accusations, fear of criticism from fans goes beyond relationships. Soojin, a former artist under CUBE Entertainment, ex-member of (G)I-DLE, also had a scandal that gained much media attention. 
Soojin was involved in a scandal where allegations of bullying were made by former classmates.
Although her scandal hasn't been proven to be either true or false, it still affected her and her fan base as many continue to support her despite the hate they receive for doing so.
Scandals like this have had students across the world and in Santa Ana reevaluate their love of K-pop.
Diego Mercado, 14, an average K-pop listener for about three years now, describes their change of perspective on the K-pop industry after hearing of a few of these scandals. 
"My perspective on the K-pop industry has definitely changed due to these scandals. They've led me to be more wary regarding certain agencies and just how easily certain problems can just get swept under the rug," Mercado said. 
Unlike Diego Mercado, Sherlin Quintana, 15, also another usual K-pop listener, has not had a change of perspective toward the K-pop industry.
"No, my perspective on the K-pop industry has not changed as I didn't expect all idols to actually follow every rule in their contract," Quintana said. 
Freshman Militza Herrera also states that her impression of the K-pop industry has not changed.
"Nope, as you can see I'm still interested in K-pop!" she said, adding she's been into the genre of music since seventh grade.
When viewing most of the scandals in the Korean music industry, many people in the K-pop community believe that these celebrities are just getting backlash for being human. 
They also point out what they believe to be inhumane contracts that forbid them from eating proper meals, cursing, and speaking their opinions.
Critics say the reason for why these restrictions are placed is to make idols seem like perfect people. Thus making them more appealing to fans.
Since most scandals are based on common human qualities, fans tend to be skeptical and have mixed opinions on whether or not they contain true harmful activities.
K-pop idols are not always as innocent as they may be made out to be. And even then, there is always that small chance of someone creating false stories to hurt their image and therefore ruin their reputation. 
While these scandals are enough for some to walk away, others are unfazed in their commitment to the genre.
"I know that most scandals end up being lies," Quintana said. "I just laughed it out knowing they were most likely fake."
About the Contributor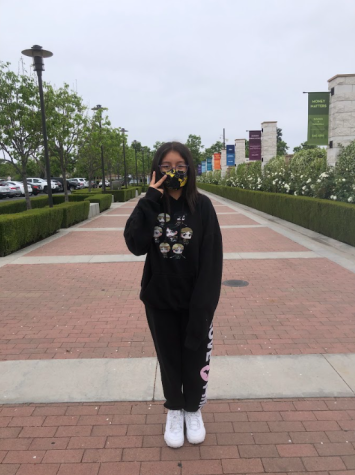 Belinda Quintana, Staff Writer
I absolutely love music (K-pop is my favorite genre), I'm a coffee over any other drink kind of person, and I collect plushies.