A summer well spent
Hang on for a minute...we're trying to find some more stories you might like.
All around the world, businesses require experience for jobs, making it difficult for students to get exposed to new fields. Signs outside businesses read, "Work Experience Needed," but how can students get work experience if applicants are just starting out? My solution to this problem: a summer internship at the city manager's office here in Santa Ana.
As Jorge Garcia, assistant to the city manager, said, "The whole point of the summer student internship is to help students gain experience in their local government."
A day at the internship:
During the summer, I was balancing a summer class at Santa Ana College as well as being employed at the city manager's office with an afternoon shift.
My internship consisted of assisting the rest of the staff with basic clerical assignments. What this means is that I helped answer people's concerns and problems. On a very rare occasion, I even assisted in writing council request forms. Among these tasks, I helped by updating the department's bulletin board, as well as filing and organizing over five years of mixed documents. I also helped set up calendars for councilmembers to make their lives easier.
Aside from these ordinary internship tasks, I had the honor of greeting people and assisting the rest of the staff in setting up meetings for councilmembers. On my work desk, I had two computer monitors connected to assist me in organization and help me multitask. I was also granted my first-ever work phone, which I used to help people the best I could. Among all these amazing devices, I was given the basic school supplies, which included: pencils, pens, highlighters, post-its, and a stapler. They were all placed in a symmetrical manner to assist me in organization and accessibility.  
The people I had the honor of meeting:
Throughout the internship, I was very fortunate in meeting and networking with community role models and local elected officials.
One of the people I had the honor of meeting was Councilmember Jose Solorio. He was very kind and courteous, and  well-spoken. He was very patient with an intern such as myself and even encouraged me to aspire for greatness. I met him on several occasions and every time I saw him, he brought positivity with him.
Another person I had the honor of meeting was Rueben Martinez. He used to be a local business owner here in Santa Ana. He was the owner of Librería Martinez Books & Art Gallery until he donated it to Chapman University who renamed it to Librería Martinez de Chapman University. Currently, he is a Presidential Fellow of Chapman University who is a role model in his community.
As Rueben Martinez exclaimed, "We as people often forget to ask for help. However, once we do even angels fall from their sky to help."
The final people I met at my summer internship were all the staff at the city manager's office. Not to sound cliché, but on my first day at the internship, I quickly realized everyone had read my cover letter as well as my resume. Each staff member at the office always had patience towards me when I was learning and each person here treated me as family. I know I will forever be grateful to have had the chance to work with everyone in the city manager's office.
About the Contributor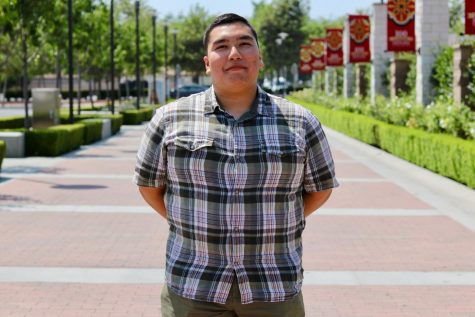 Alexis Rodriguez-Mejia, Co-Editor-in-Chief
Fun Facts:

I love writing poetry and reading poems.
I am the first person to be the Editor-In-Chief two years in a row for our school newspaper.
...