The Grammys: A giant popularity contest?
The Grammys are arguably the most anticipated event in the music industry, and for good reason too. It's a chance to recognize artists who have put their heart and soul into their songs, whether they are  nominated for winning a shiny, gold Grammy or not. While many may enjoy the excitement of watching their favorite artists be selected, I can't say I share the same enthusiasm when I turn on my TV. It seems as though the artists who win, tend to be the same ones I believe to be bit too overrated. Now that the winners of their respective categories have been revealed, I feel that it would only be fitting to share my thoughts on the annual event.
It's not surprising that many fans may disagree with the winners of this spectacular night, perhaps even frowning upon the nominations beforehand. You see tons of artists that, in one's opinion, are the spotlight of it all and should earn their rightfully deserved award instead of that other artist who you weren't rooting for. Being mainly a hip-hop fan, I find a few of the winners for some of the selected categories to be rather unfair, and with over 25 categories in the Grammys to talk about–and for the sake of the length of this article– I can't speak on behalf of every single category–apologies to the country fans–, but I'd imagine that fans share this same opinion of the winners chosen. My main focus of the night included the "Rap" and "R&B" fields of music, and the categories within these fields.
You've got your big names such as Kendrick Lamar, Bruno Mars, Jay-Z, Childish Gambino and Logic… the list goes on. Before moving forward, I'd like to point out that the winners of every individual category are voted upon by music industry professionals, who qualify due to their experience with the industry, whether it's being a songwriter, producer, or anything related. I'm not sure how many of you are surprised when I say that Bruno Mars's "24K Magic" won "Best Album of the Year," but I'll be the one to say that I don't agree with this win, and it's not for nothing, I mean, Bruno has done a lot for his career and this album was another one to add to his collection of accomplishments, but to say it was the best thing put out that year seems a little far-fetched. Now, I understand that there's more albums than "DAMN." by Kendrick or "4:44" from Jay-Z, but when you put them together in the category for "Album of the Year," you would think that maybe these votes are partially based on mainstream and popularity, rather than the actual quality of the music. That's not to say the voters have no idea about what they're choosing for, but it's more of a realization that every one of them have their own definition of what's the "best."
Following the list of awards, I was also shocked to see (and not to bash on Bruno here) that Logic's "1-800-273-8255" was beat by "That's What I Like" in the category "Song of the Year." I also had the same reaction when the "Best New Artist" turned out to be Alessia Cara, considering the other contestants that I believed should've won, artists like Khalid and SZA. Going back to my main point, It's these type of selections that can make me question the whole process of how these things are picked. It feels as though popularity has a major role in the voting of these nominations, given that a song about preventing suicide lost to a song mainly about the luxuries one has to impress a girl (though I will admit, it's very catchy).
I'm not one to convince people of what's considered to be "better" music than the artists you listened to because in the end, it's all subjective. My opinion on music only matters as much as your own. I may not necessarily agree with the winners of the Grammys and while some may be onboard with me and some might not, I think it's important to realize that one can be open to hearing people's judgements, agree or disagree with what's being said, and still have their own opinion. Music is a form of art that can be perceived in unique ways from different people; it's what makes it so enjoyable and diverse, regardless of the listener. There will always be over- and underrated songs and artists that will be put up to debate, but the only perspective that should matter is yours, as the songs you have in your playlist are chosen by you for a reason.
And the GRAMMY goes to . . . . 🎶

Browse through the list of this year's winners ➡ https://t.co/pPirMQtCyo #GRAMMYs pic.twitter.com/Pv2ijfMIaI

— Recording Academy (@RecordingAcad) January 29, 2018
About the Contributor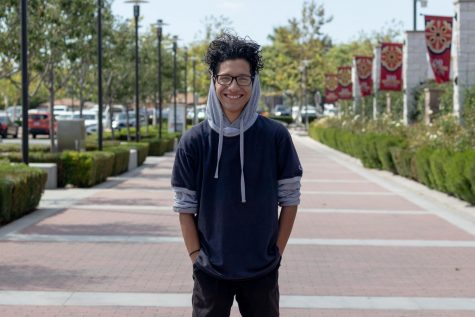 Jordan Avila, Former Columnist
Fun Facts:

I live in Tustin.
I want a Hydroflask.
I'm the guy on the microphone.